Budget 2017: What do Universal Credit reforms mean?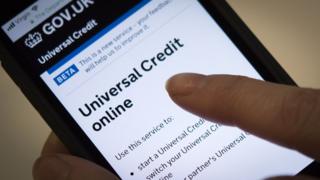 People claiming the benefit universal credit will have to wait five weeks, rather than six, to receive their first payment from February 2018.
The government had been coming under mounting pressure to act after reports that many people were getting into rent arrears, problem debt or having to use food banks while waiting to receive the benefit.
In his Budget the chancellor also announced that housing benefit claimants could continue to receive it for an extra two weeks while waiting for their universal credit payments to start.
And advances available to people who need it will be made more generous, covering up to the full value of their claim, rather than a maximum of half.
BBC Reality Check wanted to know, how significant is this announcement, in particular the reduction of the six-week wait to five?
How will it work?
People claiming universal credit will now wait, to be precise, 35 days rather than 42 before they get their first payment.
It's helpful to think of the current waiting period before people can receive their first universal credit in three chunks:
The four weeks is more or less baked into the design of the system. Universal credit was designed to be paid in arrears once a person's monthly income has been assessed. Changing this feature would have required a fairly significant change to the whole structure of the benefit.
So it was in the other 14 days that the government had some leeway.
The reduction in the waiting period announced in the Budget strips away seven of those extra days, leaving a full week to process the payment. Arguably, the chancellor could have shortened the payment processing time too.
It was the seven additional "waiting days" many took issue with, since it's difficult to see what purpose those days served other than to save money.
David Finch, a senior policy analyst at think tank the Resolution Foundation, described them as a "completely unnecessary saving" which had a disproportionate negative impact on claimants.
And a report on the six week waiting period by a cross-party group of MPs, chaired by Labour MP Frank Field, described the motivation of those extra days as "primarily fiscal".
But the motivation behind universal credit was not a cost-saving one - it was supposed to be all about getting more people into work.
The report's authors added that they had been told by a wide range of charities, councils and housing associations that the seven waiting days did "nothing to further the stated objectives of Universal Credit but contribute to claimant hardship."
Who will benefit?
Just over a third of people eligible for universal credit have always been exempt from having to go for seven "waiting days" with no benefits.
This group includes people who are moving on to universal credit from a relevant existing benefit, those who have claimed Jobseeker's Allowance or Employment Support Allowance in the past three months, young people under the age of 22 leaving local authority care and victims of domestic abuse.
The other 64% of new claimants will benefit from this change.
The actual number of people will vary - there were 47,000 new people starting to receive universal credit in the most recent month we have data for (13 September to 12 October).
What will it cost?
Chancellor Philip Hammond said the whole package of reform announced today would cost £1.5bn over five years.
When it introduced the seven day wait period the government said the policy would save £150m per year, after universal credit had been rolled out, so it's reasonable to think this is what it would cost them in the future.
For the average person claiming the benefit, they'll have £73 extra in their pockets plus housing costs and any other elements they qualify for - like childcare support.
What else could be done?
The Resolution Foundation adds that while this change is important, the waiting time is not the biggest underlying problem with universal credit.
So what else could the chancellor have done to reform the benefit?
He could have reversed cuts made in 2015 to the "work allowance". People with children, or who have a disability which restricts the amount they can work, are currently able to earn up to £397 a month before they start losing any benefits.
But before April 2016, all claimants could earn a certain amount before their benefits began to be withdrawn and some people could earn up to £734 without losing a penny.
At the moment this work allowance is assessed by household. Having a work allowance for individuals could strengthen the incentive for the second earner in a family to work.
Last Autumn, the chancellor announced a reduction to the taper rate. That's the amount of benefit you lose for every extra pound you earn. Previously, claimants lost 65p of benefit for every extra pound they earned, and this was reduced to 63p last year. So the chancellor could have opted to reduce this further.
And there are other smaller concessions government could make, for example paying eligible claimants their childcare costs upfront rather than making them pay and claim the costs back.