2 Sisters chicken supplier problems 'not one-off', say MPs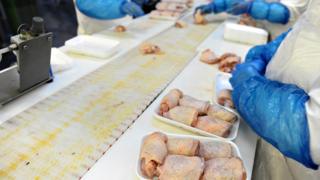 Problems at a major UK chicken supplier forced to suspend operations over hygiene concerns were "not a one-off", MPs have claimed.
A site run by the 2 Sisters Food Group in the West Midlands had a "far from pristine" past record, the Environment, Food and Rural Affairs Committee said.
Its month-long inquiry also raised concerns about how the production plant was being monitored by authorities.
2 Sisters, which has 12 UK sites, said it took safety "extremely seriously".
Marks & Spencer, Aldi, Lidl and The Co-op stopped taking chickens from the West Bromwich site after the Guardian and ITV News claimed workers were changing the slaughter dates to extend the shelf life of meat.
Undercover reporters also alleged workers were repackaging chicken portions that had been returned by supermarkets - before sending them out to other retailers.
MPs said their investigation looked at the "apparently patchwork" nature of the industry's accreditation process and how the 2 Sisters site had been checked for quality, rather than whether it breached food standards.
MPs also looked at the role and performance of the Food Standards Agency (FSA), Sandwell Metropolitan Council and other bodies.
Committee chairman Neil Parish said the inquiry should act as a "wake-up call" for food accreditation firms to "improve their processes".
He said: "Food supply chains are sensitive and easy to disrupt when retailers and consumers lose confidence in food quality or safety.
"Large producers and retailers have a responsibility to protect, rather than undermine, the UK's food producers."
'Surprise' inspections
The report said it was easy for processors to "game the system and hide infractions" from inspectors - for example by opting out of unannounced visits by accreditors.
MPs said even unannounced visits were not truly a "surprise", because workers were given about 30 minutes and so they tend to be on their "best behaviour".
The inquiry found that Assured Food Standards, which licenses the Red Tractor quality mark, did not "immediately and especially" inform the FSA when it briefly suspended the 2 Sisters accreditation between 2 and 9 October.
Ranjit Singh Boparan, 2 Sisters' chief executive, wrote to MPs, promising that he would make a number of changes - including placing a full-time FSA inspector at all plants.
He also invited the committee to visit a 2 Sisters Food Group plant, unannounced if members wished.
He said he would install CCTV with complete coverage in all plants within 120 days, and put "mystery workers" into all factories by the end of January 2018.
The committee's report concluded: "The problems identified at the 2 Sisters plant at West Bromwich were not a one-off."
It added: "The past record of the 2 Sisters Food Group is far from pristine and there are valid questions to be asked of its corporate governance structure."
The FSA's own investigation into the firm has been widened to 2 Sisters' poultry operations across England and Wales, which process about six million chickens a week, with Food Standards Scotland looking at its Coupar Angus site.