Reality Check: Have deaths in fires risen by 20%?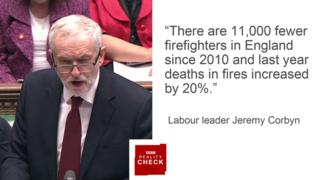 The claim: Firefighter numbers in England are down 11,000 since 2010 and fire deaths rose 20% last year.
Reality Check verdict: Jeremy Corbyn is right to say that deaths have risen by 20% if you take the figures for the 12 months to June 2017, which include the Grenfell Tower fire. The total number of staff employed by fire services in England has fallen by more than 11,000 since 2010, but only just over 8,000 of them were firefighters.
At Prime Minister's Questions, Jeremy Corbyn claimed that firefighter numbers were down and fire deaths up.
Mr Corbyn was referring to figures for only England because firefighting services are devolved.
The Home Office releases fire-related fatality statistics, usually for financial years (before 2016 they were released by the Department for Communities and Local Government).
The Home Office report points out that the figures tend to fluctuate because they are relatively small. There has been a generally downward trend since comparable figures started being collected in 1981-82, when there were 755.
In 2016-17 there were 261 fire-related fatalities, down 14% from 303 the previous year. The 2015-16 figure was 15% above the previous year.
So where does Mr Corbyn's 20% figure come from?
The Home Office released figures last week covering July 2016 to June 2017, which included 80 deaths from Grenfell Tower. We have previously looked at why it is so difficult to reach a final death toll from the devastating fire on 14 June.
The figures for July 2016 to June 2017 put the annual total at 346, which was 20% up from the previous year's figure of 289. We do not have comparable figures for July to June in previous years.
There were 44 fire-related casualties in Scotland in 2016-17, down from 45 the previous year. In Wales, the figure was unchanged at 19.
In Northern Ireland, fatal, accidental house fires were down to nine from 12 the previous year.
Numbers of firefighters
Mr Corbyn also claimed that there were 11,000 fewer firefighters in England compared with 2010.
The figure that he was quoting appears to be the one for the total number of staff in fire services across England, recorded as full-time equivalents.
In 2010, there were 51,651. In 2017, there are 40,180. That is a reduction of more than 11,000, but it includes staff who work in control centres and other support staff who don't fight fires themselves.
If we restrict ourselves to just firefighters, there were 29,018 full-time equivalent firefighters employed directly by their fire services across England in 2010. That had fallen to 22,957 in 2017 - that's a drop of just over 6,000.
But if you include retained firefighters (who work on call as well as having other day jobs), then there were the equivalent of 41,632 full-time firefighters in 2010 compared with 33,049 in 2017.
That's a reduction of 8,583 - not quite 11,000, but still a 21% reduction.