Captain Scott's South Pole 'selfie' sells for £12,500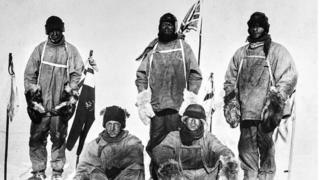 A photograph of the men who took part in Captain Scott's doomed 1910-13 Antarctic trek has sold for £12,500.
Robert Scott and his four-man team died in 1912 after being beaten to the South Pole by Norwegian explorers.
The photograph of all five was taken using an automatic trigger in January of that year after the men read Roald Amundsen's note and realised they were not the first ones to get there.
The photo sold for more than 15 times its estimate at Sotheby's in London.
The guide price was between £800 and £1,200.
Cecilie Gasseholm, from Sotheby's, said there had been a "new surge of interest" in Antarctic exploration, demonstrated by the "phenomenal results" of the auction, in particular the photograph's sale.
"These unsung heroes are deserving of our attention," she added.
Other items sold at the auction included a silver spoon and fork from the Antarctic expedition, sold together for £2,750, and The South Polar Times - which was printed in Capt Scott's hut to entertain the men - which sold for £17,500.
Mementos belonging to another Antarctic explorer, Sir Ernest Shackleton, were also auctioned.
They included a photograph, which was sold for £6,875, has the caption "Just back from the South Pole: this tramp became in after life the famous Sir Ernest Shackleton."
Sir Ernest led three successful expeditions to the Antarctic.