Do urban rap videos glamorise violence?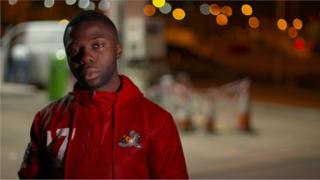 Urban rap videos should be closely monitored and even removed from online platforms such as YouTube to save lives, officials say. The BBC's Victoria Derbyshire programme met the rappers and directors who say they are just describing their lives.
A rapper performs in front of a Lamborghini for a music video, not in a swanky studio but in the car park of some flats in east London.
As the engine revs, concerned residents peek out of the windows. Others get closer to the action.
S-Rose, who changed his name from Scumz, used to be involved in gangs and has spent time in prison.
The car and location are intended to reflect his transformation.
"I can't rap about anything positive because I haven't seen more of that life yet, but I'm going to rap about what I've been through and actually let it change other people. That's the only way I can express myself really," he says.
Filming the video is Pacman, who as well as producing online music videos runs his own YouTube platform, which profiles up-and-coming rappers.
He has previously worked with gangs, but he wanted to show another side of his work, the young music stars who want to make an impact online. Some of his videos have as many as 2.8 million views.
'Bring to the table'
He started off filming some videos for friends, but his services are now in demand across London.
This is about more than just filming each other with camera phones. Pacman uses drone cameras, top of the range visuals and hires all sorts of gadgets to make each video look as good as possible.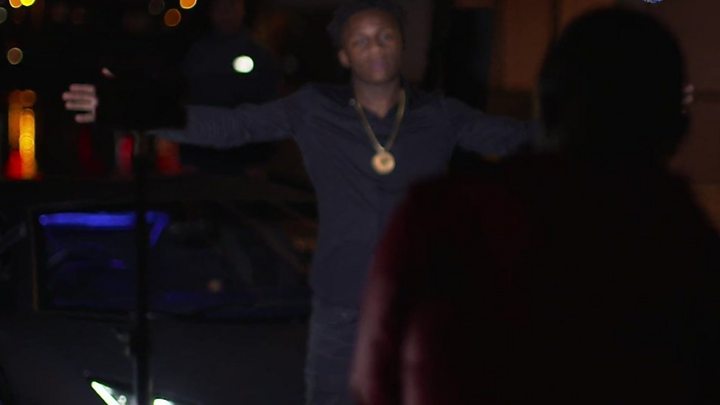 "It's about them broadcasting themselves showing what they've got to offer and what they bring to the table. Everyone wants good exposure at a high standard and that's what I'm offering to them."
Although he says he is careful to stay out of any rivalries, his video shoots are not always drama-free.
"I've been filming people and seen people pull out some serious weapons. I've seen guys get shot but that's always a personal issue, it's never to do with me so I'm not particularly scared but obviously to a normal civilian or bystander it is going to be a serious situation," he says.
'Causing tensions'
Without mentioning any specific content, the mayor of London's office says it is not targeting general rap and music videos but wants online outlets to do more to remove quickly those that include extreme graphic content.
Sophie Linden, the Deputy Mayor for Policing and Crime, said: "Gangs are using YouTube to make very specific threats and intimidation and harassment and sometimes incite violence."
She said some videos could look "fairly innocuous" to people who were not in gangs but the police were experts at spotting things in films that were causing tensions.
YouTube rap videos were cited in the murder of Marcel Addai, 18, who was killed after a chain of video exchanges between gangs in London erupted into violence. His four murderers were sentenced to a combined 97 years in prison.
The Met Police says there has been an increase in videos glamorising gang violence and since the beginning of the year, seven of the 16 videos it has flagged have been removed.
Harsh reality
Although they might rap about it in their videos, none of the people the BBC spoke to condones violence and they all say they are not members of any gangs. Pacman says he knows where to draw the line in his videos.
"If you film anything that is too graphic or seriously targets an individual or community or anything that is seriously controversial, YouTube just take it down," he says.
"If it is within reason, then fair enough - but if someone is just rapping and it isn't violent or doesn't attack anyone, it is unfair for that person to try to have their content removed."
Pacman says people make assumptions and need to be shown that the videos he shoots represent people doing something constructive and trying to build a business.
We also watch him film a video for a rapper called J Gang, in Brixton.
Pacman lets off a purple smoke bomb behind the artist, who is busy delivering his new track, Choices, all about avoiding bad decisions in life, and suddenly curious locals are gathered around to watch the impromptu music scene.
"I've got a lot of music talking about the streets. People like to see the negative side of everything. I help the homeless, I help youths that are doing crime, in a way that telling them it is not good to do the crime, try to get them into football. There are all types of things that can get them into legitimate things," J Gang says.
He says rapping about drugs and guns does not glamorise the lifestyle but reflects the "harsh reality of living an illegal life".
"It's not a good way to live. Obviously people die, people doing drugs - a lot of things come of it. So you can see the light to it but there's also a dark to it. It's me trying to talk to the people and make them understand it's not all glamorous it's not all nice," he says.
Watch the Victoria Derbyshire programme on weekdays between 09:00 and 11:00 on BBC Two and the BBC News channel.