#BlueLightHappy: Public thanks for paramedics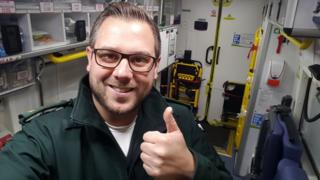 When a paramedic found himself reading too many stories about the abuse encountered by his colleagues, he decided it was "time for a morale boost" and started a campaign to get people sharing happier experiences.
"Sometimes, it's hard to remember that most people are really appreciative of what we do every day," Rob Moore explained.
The paramedic has been working for the West Midlands Ambulance Service in Birmingham for more than four years.
Last week, one of his colleagues found a note left on an ambulance telling them not to block a driveway.
And over the weekend, footage emerged online appearing to show a driver hurling abuse at a paramedic.
So Rob started #BlueLightHappy with a plea on Twitter for "stories of people doing nice things" - to "show people do care" about the emergency services' work.
His efforts sparked a flurry of responses - some from grateful members of the public and others from first responders themselves, recalling heartfelt letters, emails and gestures aimed their way.
One of those to respond was Liv Pontin from West Sussex. Six years ago, her mum died suddenly of pancreatic cancer.
"We had the paramedics out that evening. Rapid response turned up and they were really good with her," the 28-year-old told the BBC News website.
Liv's mum died in A&E later that night, but shortly after, she wrote to the paramedic to say thank you for his efforts.
"We were all so scared and he just reassured her."
This September, an ambulance was called for Liv herself - and she came face to face with the same reassuring paramedic.
"I didn't recognise him, but I saw his name and that he was a practitioner," she said. "I just remembered that the paramedic (who treated mum) had said he was training to be a practitioner.
"I told him where we lived and he said that he remembered."
Not only did he remember Liv and her mother, but the paramedic told her he still had the thank you letter she sent in his locker.
"It meant a lot to me because no-one really knows what happened that night except my family and the ambulance workers," she said.
On getting involved in the #BlueLightHappy effort, she added: "It was nice to say thank you."
Other ambulance workers recalled offers of tea and biscuits and even free ice creams.
Oscar Miller said someone offered to buy him lunch on the day after the Westminster Bridge terror attack in London, "I'd already paid, but a nice gesture," he added.
Another Twitter user said she "cried a little bit" on receiving her first thank you letter.
"And when random strangers let you skip the queue in Tesco when you pop in. So sweet," she added.
Most people tweeting with the hashtag have just been saying thank you, Rob said.
"To receive an unsolicited thank you is just magical... It's one of the absolute best feelings in this job."
On a recent shift, Rob and some of his colleagues had a meal bought for them in the middle of the night.
"It really took me back. It's heart-warming," he said.
"One small gesture can make someone's whole week."