Daisy Goodwin: 'I was groped by 10 Downing Street official'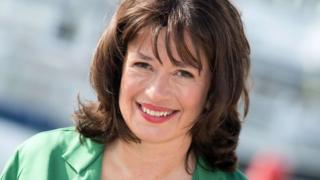 A TV producer has said she was groped by a government official during a visit to 10 Downing Street.
Daisy Goodwin, who created the ITV series Victoria, told the Radio Times the man put his hand on her breast after a meeting to discuss a proposed TV show when David Cameron was PM.
Ms Goodwin said she was "cross" at the time, but did not report the incident.
Downing Street said it took allegations seriously and officials would look into a formal complaint, should one be made.
Ms Goodwin said the official - who has not been named - invited her into an office at Number 10 for the meeting.
She said she was surprised when the man put his feet up on her chair and remarked that her sunglasses "made me look like a Bond Girl".
She said she tried to steer the conversation back onto professional matters, but added: "At the end of the meeting we both stood up and the official, to my astonishment, put his hand on my breast.
"I looked at the hand and then in my best Lady Bracknell voice said: 'Are you actually touching my breast?'
"He dropped his hand and laughed nervously."
Ms Goodwin said she left Downing Street in a state of "high dudgeon".
"I wasn't traumatised, I was cross. But by the next day it had become an anecdote, The Day I Was Groped In Number 10," she said.
Mr Cameron, who was prime minister between 2010 and 2016, said he was first made aware of this "serious allegation" on Monday.
His spokesman said he was "alarmed, shocked and concerned", and immediately informed the Cabinet Office.
'Keep Calm'
Ms Goodwin said recent revelations of alleged abuses had made her question whether she was wrong not to have made a formal complaint.
"Now, in the light of all the really shocking stories that have come out about abusive behaviour by men in power from Hollywood to Westminster, I wonder if my Keep Calm and Carry on philosophy, inherited from my parents, was correct?
"The answer is, I am not sure."
Hollywood has been rocked by allegations against film mogul Harvey Weinstein and others.
At Westminster, several Conservative and Labour MPs are being investigated over claims of sexual misconduct.
On Ms Goodwin's case, a Downing Street spokesperson said: "Allegations such as this are taken very seriously.
"The Cabinet Office would look into any formal complaint, should one be made."