Iran's jailed dual nationals and their uncertain fate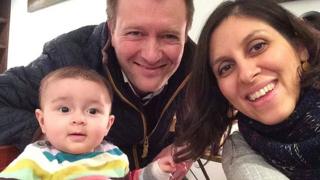 The plight of British-Iranian mother Nazanin Zaghari-Ratcliffe, accused of trying to overthrow the government of Iran, has focused attention on other people with dual nationality who are languishing in the Islamic Republic's prisons. There are no exact figures on dual nationality and foreign permanent resident detainees - and given the sensitive nature of the information it may be that the true figure may never be revealed. Estimates vary between 12 to 30 people. Some of the most prominent are:
Siamak and Baquer Namazi (Iran-US)
Siamak Namazi worked for an oil company based in the United Arab Emirates.
He was arrested by the Revolutionary Guards in Tehran in October 2015. A year later he and his octogenarian Iranian-American father Baquer were sentenced to 10 years in jail for "collaborating with enemy states" after a trial in which rights campaigners say they were denied due process.
An appeals court upheld their sentence in August 2017. Baquer was arrested after flying to Iran in February 2016 to try to negotiate his son's release. He is reported by the Center for Human Rights in Iran (CHRI) to have undergone heart surgery in September 2017 to receive a pacemaker.
Karan and Afarin Vafadari (Iran-US)
Arun art gallery manager Karan Vafadari and his architect wife Afarin Vafadari were arrested in Tehran by intelligence officers of the Revolutionary Guards for allegedly serving alcohol in their home and hosting parties attended by both men and women.
They faced new and more serious charges in March 2017 when they were accused of attempting to overthrow the Islamic Republic and recruit spies through foreign embassies.
So far no trial has been held, CHRI says, but it is feared the couple could face more than 20 years in prison, as well as cash fines and confiscation of their house and other properties.
Princeton Student Xiyue Wang has been held since the summer of last year on unspecified espionage charges. An Iranian Appeals Court in September upheld the 10-year prison sentence of the doctoral student.
Mr Wang, a Chinese-American, was imprisoned in July for "collaborating with foreign governments" - a charge he denies.
He was arrested while doing research in Iran for a university dissertation. Three others facing similar charges have also had their jail sentences upheld.
The US state department accused Iran of "harassing, arresting and detaining US citizens".
It said people of dual nationality were being especially singled out, while the ability of the US to help those being held was "extremely limited".
Ahmadreza Djalali (Iran-Sweden)
Ahmadreza Djalali is an Iranian-born Swedish resident who has been imprisoned since April 2016 when he attended a conference in Tehran. He was reported to have been sentenced to death in October on charges that he had spied for Israel.
Tehran's prosecutor said soon afterwards a person had been found guilty of passing to Israeli operatives the addresses of 30 nuclear and military scientists - two of whom were killed in bomb attacks in 2010. He did not identify the person.
But Mr Djala's wife said he had been convicted on similar charges.
Human rights group Amnesty International said it came after "psychological torture, false confessions and a grossly unfair trial".
Robert Levinson (Iran-US)
Robert Levinson disappeared during a business trip to the Iranian island of Kish in March 2007.
He is a former FBI agent who has been held in Iran for the last seven years after reportedly working for the CIA on an unapproved mission.
CHRI says that his case is shrouded in mystery. It is not known whether he is alive or dead and Iranian officials have insisted that they have no knowledge about his fate amid protests by Mr Levinson's family.
Kamal Foroughi (Iran-Britain)
Kamal Foroughi was working in Tehran as a consultant when he was arrested in 2011 and thrown in jail. He was later accused of spying.
Now 78, the British-Iranian dual national was initially jailed for eight years, although this was later cut to seven. He is serving his sentence at Tehran's notorious Evin prison.
Son's plea for father jailed in Iran
Kamran Ghaderi (Iran-Austria)
Kamran Ghaderi is serving a 10-year prison sentence in solitary confinement in Tehran.
Rights groups say the CEO of an Austrian IT management and consulting company was coerced into confessing to espionage in 2016 and is now in poor physical and mental health.
His repeated requests to be transferred to a public ward have been denied.
Sabri Hassanpour (Iran-Netherlands)
Sabri Hassanpour is vociferous in his criticism of the Islamic Republic. He has been in Evin prison since March 2016, and rights groups say he is being denied urgently-needed open heart surgery by the Iranian authorities.
Abdolrasoul Dorri Esfahani (Iran-Canada)
Abdolrasoul Dorri Esfahani was a member of Iran's nuclear deal negotiating team, in charge of banking issues during the two-year negotiations.
He was arrested in 2016 for "selling the country's economic details to foreigners".
Mr Dorri Esfahani later gave an interview with Tabnak in which he dismissed the reports as "ridiculous".
Nizar Zakka, a Lebanese permanent resident of the US, is due to face trial following his arrest in September 2015. The technology expert was visiting Tehran to speak at a conference on the role of women in sustainable development.
Iranian state media said in November 2015 that he was accused of having links to the US military and intelligence agencies.
Saeed Malekpour (Iran-Canada)
Saeed Malekpour was given the death sentence in 2010 for allegedly designing an adult website which insulted Islam. Canada's foreign ministry said at the time that the legal process which resulted in his conviction was highly questionable.
His death sentence was commuted to life imprisonment in August 2013.
His family say he has been in imprisoned in Tehran since 2008.