Nazanin Zaghari-Ratcliffe case: Diplomatic protection 'one option'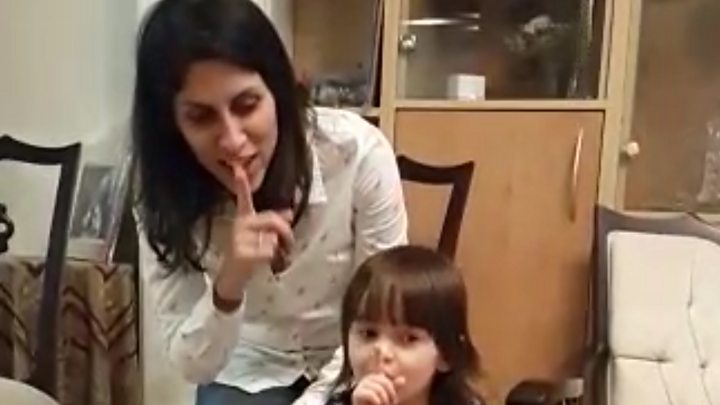 Offering a British-Iranian mother in prison in Iran diplomatic protection is "one of the options" being considered in the case, Downing Street has said.
Nazanin Zaghari-Ratcliffe was arrested during a visit to Iran in April 2016 and accused of trying to overthrow the regime there - a charge she denies.
Her husband Richard Ratcliffe has criticised the UK's response and said it could offer diplomatic protection.
Number 10 said it was working to find the "most beneficial" course of action.
In a phone call, Mr Ratcliffe asked Foreign Secretary Boris Johnson to consider diplomatic protection for his wife, which under international law is a way for a state to take diplomatic action on behalf of a national.
Taking such a measure would effectively escalate the case from an individual consular matter to a formal legal dispute between Britain and Iran, BBC diplomatic correspondent James Landale said.
Asked about the possibility, Downing Street said it was an option, adding: "I think what we need to look at is what will work best and what can be most beneficial in this case."
The government "will look" at Mr Ratcliffe's comments "very closely" and decide the "best course of action to secure her release", the Number 10 spokesman added.
Mr Johnson and fellow cabinet minister Michael Gove have been accused of bungling the UK's handling of the case.
The foreign secretary told MPs last week that he believed Mrs Zaghari-Ratcliffe had been teaching in Iran before she was arrested, while Mr Gove told the BBC he did not know what Mrs Zaghari-Ratcliffe had been doing in Iran.
Her family have always maintained she was on holiday with her daughter.
Asked about the government's official position, Downing Street said: "The government's position on this is clear. She was there on holiday. It wasn't for any other purpose.
"The foreign secretary reiterated that in his conversation with the Iranian foreign minister last week."
The spokesman said Prime Minister Theresa May had been involved in Mrs Zaghari-Ratcliffe's case "from the outset" and was treating it as "a priority".
She had raised it with Iranian President Hassan Rouhani on at least two occasions, he added.
What is 'diplomatic protection'?
By James Landale, BBC diplomatic correspondent
When a British citizen is jailed overseas, they normally get basic consular help from the local embassy.
This could include anything from contacting family to legal support to medical help. But if the UK were assert its diplomatic protection over a British citizen, that would change things significantly.
This would be a signal that the UK is no longer treating the case as a consular matter but a formal, legal dispute between Britain and that country.
That's because diplomatic protection is a mechanism under international law that a state can use to help one its nationals whose rights have been breached in another country.
The broad legal principle is that British diplomats would no longer be representing the interests of a citizen but the interests of their state.
Speaking to Radio 4's Today programme earlier, Mr Ratcliffe said he had written to the Foreign Office following remarks made by Mr Gove.
He said Mr Johnson "did promise to consider whether she'll be eligible for diplomatic protection" which "gives a different push" to what the government can do for his wife.
"I'm reassured that it is the position of the government," Mr Ratcliffe said.
Asked about his conversation with Mr Ratcliffe, Mr Johnson told the BBC Foreign Office officials were working "very, very hard" on the case.
"On Iran - and on consular cases generally - they are all very sensitive and I think the key thing to understand is that we are working very, very hard and intensively and impartially on all those cases," he added.
Mrs Zaghari-Ratcliffe - who has a three-year-old daughter, who is being cared for by family in Iran - was arrested and jailed in Iran in April 2016.
The full details of the allegations against her have never been made fully public.
But speaking in Westminster on 1 November, Mr Johnson appeared to contradict her own account when he wrongly said she had been training journalists.
Four days later, Mrs Zaghari-Ratcliffe was recalled to court in Iran and Mr Johnson's remark cited as evidence against her, prompting fears that her five-year sentence could be extended.
Labour have since called for the foreign secretary's resignation, but Mr Ratcliffe has said he believes it is not in his wife's interests for anyone to resign.
'Violation of rights'
The UK government's policy for dual British nationals arrested abroad, is that UK authorities "won't get involved if someone's arrested in a country for which they hold a valid passport, unless there's a special humanitarian reason to do so".
Iran, however, does not recognise dual nationality, and so does not allow consular assistance from the foreign office or the British embassy.
Should Mrs Zaghari-Ratcliffe be granted diplomatic protection, the UK government could make representations at a political and diplomatic level instead.
Mr Ratcliffe says a call for his wife's release from the United Nations last month had not been endorsed by government.
In October, José Antonio Guevara Bermúdez, chair-rapporteur of the UN's Working Group on Arbitrary Detention, and Ms Asma Jahangir, special rapporteur on human rights for Iran, called for Mrs Zaghari-Ratcliffe's immediate release.
She had been "deprived of her liberty", they said.
"The UK didn't endorse that call," Mr Ratcliffe said. "It hasn't ever acknowledged a violation of her rights, which I find staggering."
But he still hopes his family will be reunited by the end of the year.
"I think the best chance Nazanin has of coming home this side of Christmas is all of the weight of the Foreign Office and the foreign secretary being focused on doing that," he said.