Remembrance Sunday: UK events mark the nation's war dead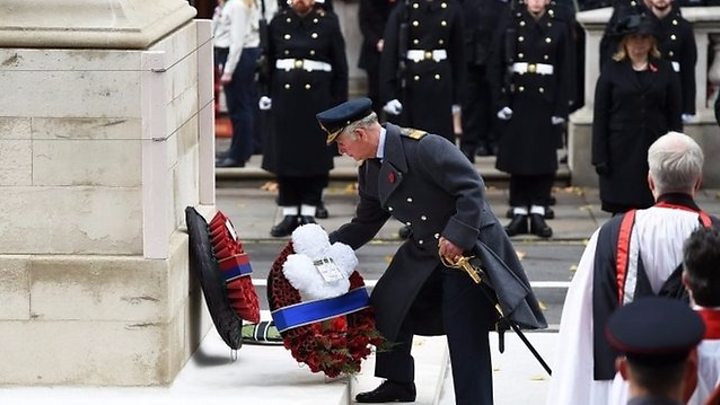 Politicians, members of the Royal Family and veterans are commemorating those who lost their lives in conflict as the UK marks Remembrance Sunday.
A two-minute silence was held across the country and wreaths were laid at memorials.
Prince Charles attended the annual ceremony at the Cenotaph in London and Big Ben chimed at 11:00 GMT.
The Queen did not lay a wreath but instead watched from the Foreign Office's balcony.
The only other occasions when she has not laid the wreath were when she was pregnant or abroad.
At the Cenotaph on Whitehall, the Last Post was played shortly before the Prince of Wales laid the wreath.
The royals were joined by Prime Minister Theresa May, other senior politicians, religious leaders and dignitaries from around the Commonwealth.
As part of services being held across Scotland, more than 100 wreaths were laid at Edinburgh's City Chambers. First Minister Nicola Sturgeon attended the service.
In Wales, a service was held at the Welsh National War Memorial and a field of remembrance at Cardiff Castle featured more than 10,000 crosses.
At the Cenotaph in Enniskillen in Northern Ireland, Irish Taoiseach Leo Varadkar laid a green laurel wreath, 30 years after an IRA bombing there killed 12 people.
Northern Ireland secretary James Brokenshire and DUP leader Arlene Foster also laid wreaths.
In Omagh, a wreath-laying ceremony was postponed after a suspicious object was found.
Meanwhile, bell ringers are being sought for 2018 to honour the 1,400 ringers who died in World War One.
Sir Stuart Peach, chief of the defence staff, told the Andrew Marr show that the day was one of remembrance and reconciliation.
"Today we mark and remember over a million British and Commonwealth soldiers who died in both world wars. So it is about remembering the sacrifice they made so that we can enjoy the freedom and liberty that we have today," he said.
"It's also very important to understand that this is about reconciliation. That nations move on."
The new Defence Secretary, Gavin Williamson, said: "We must not forget the continued sacrifices our armed services make, right across the globe serving in 30 countries, making sure that this country remains safe - and that the freedoms that we have today continue to be protected."
On Saturday, events were held around the UK to mark the 99th anniversary of Armistice Day with Big Ben chiming for the first time since August.
The evening saw a Festival of Remembrance held at Albert Hall. Members of the Royal Family watched as Emeli Sande, Tom Odell and other stars performed alongside the Queen's Colour Squadron and The Band of HM Royal Marines.
The event was held by the Royal British Legion and hosted by the BBC's Huw Edwards. It commemorated all the British military personnel killed in combat since World War One.