Egypt drugs case: Briton 'had no idea painkiller was illegal'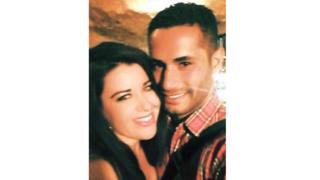 A British woman being held in Egypt on drug smuggling charges says she had "no idea" the prescription painkillers she was carrying were banned there.
Laura Plummer, 33, is due in court on Saturday accused of smuggling 300 tablets of Tramadol, a painkiller that is legal in the UK but not in Egypt.
The shop assistant from Hull says they were given to her for her Egyptian boyfriend's "back problems".
Local police says that ignorance of the law is no excuse.
Ms Plummer's relatives hope the judge at her custody hearing in the Red Sea Resort of Hurghada on Saturday will believe she made an innocent mistake - drug smuggling can be punishable by death in Egypt.
'Rock bottom'
Tramadol is legal in the UK with a prescription but banned in Egypt where many are addicted to the opiate.
Ms Plummer told the BBC that a colleague had given her the tablets in a chemist's bag that she put in her suitcase. "I didn't even look in bag," she said. "I can't tell you how stupid I feel."
She said her cell in a police station was the size of her bedroom in the UK, but she was having to share it with 25 other women.
She said her spirits were at rock bottom and she dreamt of coming home, catching up with her favourite soap opera Emmerdale, sleeping in her own bed, and having a cup of tea.
She added her shared cell was claustrophobic, that it was sometimes hard to breathe and that although her fellow prisoners were trying to look after her, none of them spoke English.