MPs' sex harassment scandal 'not as big as expenses' - Bercow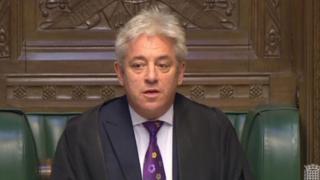 Fewer people will be caught up in the Westminster sex scandal than were exposed in the expenses row, Commons Speaker John Bercow has predicted.
Mr Bercow said he did not expect numbers "anything like" those found to be claiming fraudulently in 2009.
He added this would "probably limit the damage" but did not mean the current revelations were "insignificant".
His comments came as parliamentary leaders agreed a grievance procedure for handling allegations of misconduct.
A number of MPs and officials from different parties are being investigated over their behaviour.
Labour activist Bex Bailey has said she was raped at a party event and discouraged from reporting the 2011 incident by a party official.
Defence Secretary Sir Michael Fallon was the first to resign over allegations against him. He stepped down after journalist Julia Hartley-Brewer told how a senior politician - named by others as Sir Michael - repeatedly touched her knee until she explained to him she would punch him in the face if he did it again.
Meanwhile Labour MPs, Kelvin Hopkins and Clive Lewis, have also faced accusations but have issued firm denials.
Mr Bercow, who has previously called for zero tolerance of sexual harassment in Parliament, said he did not think the "sheer numbers" would be as great and that "might and probably will limit, not remove, not render insignificant, but limit the damage".
At an event at Queen Mary University in London, he said: "I think that we will get to grips with it by acting speedily and effectively, both to ensure that people who are suspected of wrongdoing are investigated and, in particular, to ensure that a complaints mechanism is established which is characterised above all by independence."
He added: "I am not diminishing the significance of this. It is a real and big challenge, but I think almost learning from past scandals will help us react to and deal with it better."