Rolf Harris challenges indecent assault convictions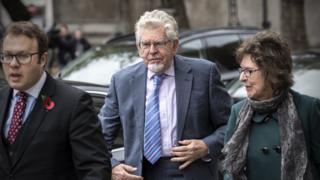 Former entertainer Rolf Harris has renewed his application to have his convictions for indecent assault quashed at the Court of Appeal.
His lawyers said there was overwhelming evidence to show he wasn't in an area where one of the alleged indecent assaults took place.
The 87-year-old is hoping to overturn the 12 indecent assault convictions he was jailed for in 2014.
His two-day appeal hearing was heard by three judges at the High Court.
The Australian-born TV presenter was sentenced to nearly six years in prison in 2014. He was released in May.
He was convicted of 12 indecent assaults against four girls, including one aged eight, which took place between 1968 and 1986.
His defence team have put forward new evidence which they claim shows he wasn't at Leigh Park community centre in Hampshire where one girl said she was assaulted in the 1960s.
The court heard from two former police officers and the father of one of the victims - who all said Harris was not in that part of Hampshire at the time of the alleged assault.
Stephen Vullo QC, representing Harris, said: "We only need to show one count was unsafe in order to have a retrial."
The prosecution argued that despite these new claims, the force of evidence against him is still there.
The three judges will now reach their conclusion which is expected to take two weeks.