Human rights lawyer: prisoner votes plan is 'cynical'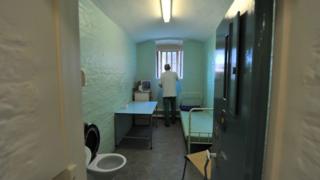 A lawyer for prisoners seeking the vote has called leaked government plans to enfranchise some inmates a "cynical" attempt to do the minimum required.
Sean Humber, a partner at Leigh Day, said the reported proposals were likely to affect just a few hundred people.
According to the Sunday Times, prisoners sentenced to less than a year and with the right to day release could be allowed to return home to vote.
The Ministry of Justice declined to comment on "speculation".
Currently, prisoners are not eligible to be included in the register of electors, except for unconvicted prisoners on remand - those in custody pending trial - and those who were sent to prison for contempt of court or for not paying a fine.
Since 2005, the UK government has been in breach of a ruling by the European Court of Human Rights that its blanket ban breached the right to free and fair elections.
David Cameron, who refused to overturn the ban, said during his time as prime minister that the idea of prisoners voting made him "physically ill".
Now Justice Secretary David Lidington has reportedly prepared plans which would allow some prisoners to vote.
A senior government source told the Sunday Times: "This will only apply to a small number of people who remain on the electoral roll and are let out on day-release.
"These are not murderers and rapists but prisoners who are serving less than a year who remain on the electoral roll. No-one will be allowed to register to vote if they are still behind bars."
According to the latest figures, only 4,023 prisoners were allowed out on temporary licence in the last three months - just 5% of the prison population of over 85,000.
'Bare minimum'
Mr Humber, who represented more than 500 prisoners in their human rights case to win the vote, said that he doubted that extending rights to such a small group of prisoners would satisfy the European court.
He said: "There will no longer be a blanket ban, but giving just a few hundred prisoners the vote seems like the wrong side of the line.
"In some ways it's a very cynical attempt. It's trying to do the bare minimum and falling short."
But he said that the move may turn out to be a "crack in the dam" which made it harder to justify voting rights for the wider prison population.
---
Who cannot vote in a UK parliament election?
Members of the House of Lords
Anyone convicted of a crime, who is being detained in accordance with their sentences, except when it is contempt of court or for not paying a fine
EU citizens living in the UK - unless from the UK, Republic of Ireland, Cyprus or Malta
Foreign nationals, other than British, Irish and some Commonwealth citizens
People under the age of 18 on polling day
Anyone found guilty within the previous five years of corrupt or illegal practices to do with an election
Patients in mental health hospitals who are convicted offenders
Source: Electoral Commission
---
Frances Crook, chief executive of the Howard League of Penal Reform, said that voting should be part of prisoner's rehabilitation and civic responsibility.
She said: "Voting is an important part of that responsibility and, while these proposals are a step in the right direction, it is disappointing that they will apply to only a small number of prisoners."
A Ministry of Justice spokeswoman declined to comment on details of the leak, but said: "Our policy on prisoner voting is well established - it remains a matter for the UK to determine, and offenders in prison cannot vote."