'My ex told everyone I had HIV'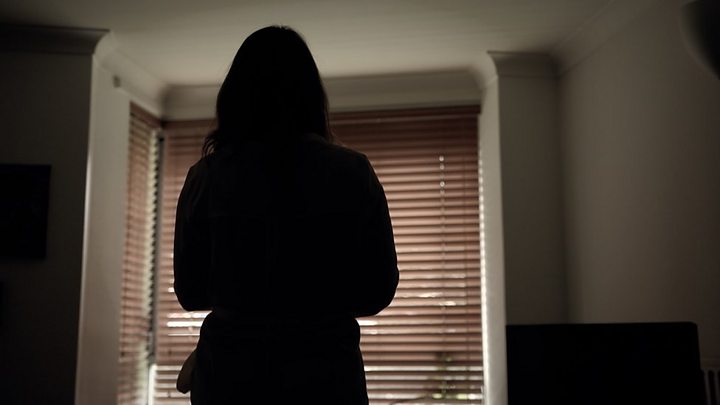 When Helen was stalked by her ex-partner, she says his abusive messages made her feel "worthless". But she felt that the police did not take her seriously. Now one force is developing a new way to help victims.
"I was receiving calls, emails, texts non-stop. One day there were 457 text messages," Helen, not her real name, tells the BBC's Victoria Derbyshire programme.
She was being stalked by her ex-partner.
"The texts were absolutely vile in nature. Very abusive, calling me a slag, [saying] how dare I end this, that nobody would want me.
"Then it progressed. He posted on social media a sort of lonely hearts column.
"He advertised that I had sexually transmitted infections, which was untrue. He advertised the fact that I had HIV, which was untrue.
"All this abuse was within a very small community. That was horrific to deal with, I felt I could no longer go out in public.
"I felt that everybody knew and was talking about me. It left me very, very scared and paranoid."
'Can't you ignore it?'
Helen decided enough was enough, and went to the police.
She says at first they were "quite responsive". Her ex-partner was issued with a caution for harassment.
But, she says, the term "stalking" was never once mentioned to her - even though, at one stage, her stalker "repeatedly" drove past her house while a police officer was with her.
Her ex breached his caution by posting comments online about her and trying to communicate with her directly. But when she went back to the police, she felt she was not listened to.
"I was getting comments from the police officer such as, 'Well he's from a nice family. Can't you ignore the Facebook stuff, ask your friends not to show you it anymore?' and advising me not to use social media."
She adds that when she rang the non-emergency line to report incidents of stalking, she had to wait "around five to seven days for an appointment".
It is cases like Helen's that have led the National Centre for Cyberstalking Research (NCCR) at the University of Bedfordshire and Bedfordshire Police to develop a set of steps to help victims and those investigating the crimes.
An app currently being developed with victims' groups will be given to those considered at "medium risk", so that they can record evidence of stalking - from phone calls and screenshots, to videos and audio recordings.
The app captures the metadata, so the information behind the messages can be used to track down the offender.
It also calculates the hotspots - when the stalker is most actively sending material during the day or week - allowing the victim to plan their life around it, so they can avoid upsetting comments.
It comes against the backdrop of a report in July by two watchdogs which said victims of harassment and stalking were being left at risk because of failings by police and prosecutors in England and Wales.
It also said too many investigations were poorly run.
More than 1.1 million people experience stalking each year, according to the Crime Survey of England and Wales.
As part of the scheme with Bedfordshire Police, NCCR has also written a set of specific questions, as part of a risk assessment, for front-line officers to help them determine the level of risk the stalker poses to the victim.
NCCR director Dr Emma Short says it is important to have such material for officers who are not technologically advanced.
"It's very hard. If you're listening to a phone call with someone who perhaps isn't communicating the level [of the crime], they're just communicating the content, it's very hard to assess."
Consultant forensic psychiatrist Dr Frank Farnham says the police's first response is vital, as "on average it will take someone three months before they go to the police.
"If they trivialise [your experience] you might not go back again," he adds.
The third part of the scheme involves treating the stalker's behaviour, as well as considering punishment.
Bedfordshire Police wants to address why stalkers are committing the crime, and to make them understand the impact on the victim.
Dr Farnham says in some instances rehabilitation is possible.
"It depends, to a certain extent, on the underlying motivation and the mental state of the offender," he explains.
"There is a group of individuals who understand on some level that their behaviour is unacceptable, but they're backed into a corner and they're lacking the sort of skills to deal with stress - which would allow them to stop their behaviour.
"If you could intervene early with that group, offering therapy and or treatment for mental illness - if they are ill, for example depressed - you might have some beneficial effects."
He says that given that stalkers "reoffend at such a high rate", even making a small change in their behaviour would have a large impact on the number of incidents a victim has to deal with.
For Helen, this would represent great progress. She says her ex-partner has now not been in contact with her for several months.
"[Being stalked] made me feel like I was worthless. And I'm a very strong independent, bubbly sort of person," she says.
"I was so angry at myself for getting into that situation, because I never thought that I'd have been in a relationship that consisted of that.
"I was very angry at him, and I was determined that I was going to get through it."
Watch the Victoria Derbyshire programme on weekdays between 09:00 and 11:00 on BBC Two and the BBC News Channel.