Police 'let down' modern slavery victims, says report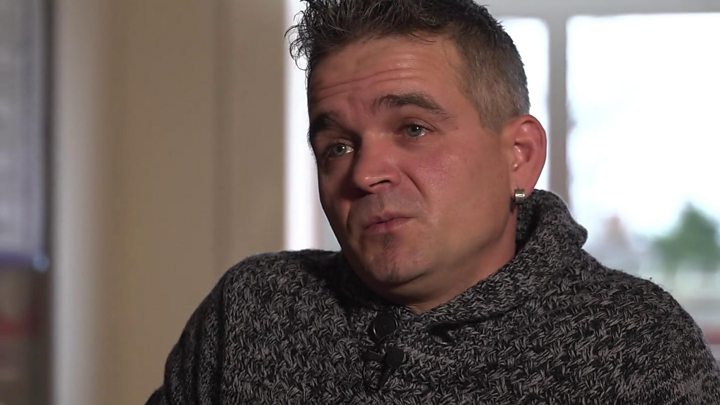 Victims of modern slavery are being let down "at every stage" by police in England and Wales, a report has said.
Cases had been closed without any inquiries being made, and in some cases detectives didn't speak to the victims, the Inspectorate of Constabulary said.
The study, which looked at 10 police forces, found some examples of good policing - but said that was the exception, rather than the norm.
Police say they "fully accept" the recommendations in the report.
Thousands of men, women and children are victims of modern slavery and human trafficking in the UK, said the report from Her Majesty's Inspectorate of Constabulary and Fire and Rescue Services.
Settings range from nail bars to construction sites, and involve activities from domestic servitude to the trafficking of children for sexual exploitation.
After taking office last year, Theresa May vowed that Britain would lead the world in trying to get rid of the "barbaric evil" of modern slavery.
'Lack of sympathy'
Earlier this year, official estimates suggested there were up to 13,000 potential victims in the UK, but last week the anti-slavery commissioner described that figure as "far too modest".
The inspectorate's report said police had a crucial role to play in protecting victims, but it found that the process of identifying them was inconsistent, sometimes ineffective, and in need of improvement.
Examples included:
A Polish man had not been paid for seven years and complained of his employer beating him with a stick, but action wasn't taken until he was assaulted seven months later.
14 Romanian workers complained to the police of exploitation on a building site. However, the group said they did not wish to support a prosecution and were repatriated back to Romania within days. No formal statements were taken.
An eastern European woman was found by a member of the public heavily pregnant and in distress near a motorway service station. She told police she had been trafficked to the UK and forced into prostitution. While a modern slavery crime was recorded, rapes she had suffered were not.
In some forces, senior officers were reluctant to "turn over the stone" of modern slavery, fearing a lack of resources to deal with what they might discover, the report said.
In several forces, some officers said they did not believe the public "were either interested in or sympathetic to victims".
Some frontline personnel did not consider modern slavery to be an issue in their force area, the report added.
Victims were not always recognised as such, the report said, and as a result remained in the hands of those exploiting them - or were arrested as offenders or illegal immigrants.
HM Inspector of Constabulary Wendy Williams said: "Whilst modern slavery cases can be complex and require significant manpower, many of the shortcomings in investigating these cases reflect deficiencies in basic policing practice.
"As a result, victims were being left unprotected, leaving perpetrators free to continue to exploit people as commodities."
---
Woman sent back 'to man she feared'
In one case, police attended an address in response to intelligence suggesting that Chinese nationals were using it as a brothel.
When officers forced entry they found a 48-year-old woman and arrested her on suspicion of immigration offences and took her to the police station - but subsequent inquiries revealed that she was in the UK legally.
She was taken back to the address and left outside the premises, despite revealing her fear of the man who ran the business.
Other officers said they were worried she might be a victim of modern slavery and human trafficking, and police returned to the address but by then it had been vacated.
"The woman is now a missing person and at risk of continued exploitation and re-trafficking," said the report.
---
The report found there were "pockets" of good practice, particularly in Manchester, and said forces had begun to make improvements since the inspection was carried out between November 2016 and March 2017.
Shaun Sawyer, the national policing lead for modern slavery, said the police "fully accept the recommendations included in this report", adding they were now actively seeking out modern slavery and the challenge ahead was "considerable".
Theresa May drew up the 2015 Modern Slavery Act when she was home secretary and set up the first government taskforce on the issue last year, while she also hosted an event tackling the problem at the United Nations General Assembly in New York last month.
A Home Office spokesman said the government was investing £8.5 million to help the police tackle modern slavery.