County Lines: The children forced to sell drugs
By Simon Cox and Emma Forde
File on 4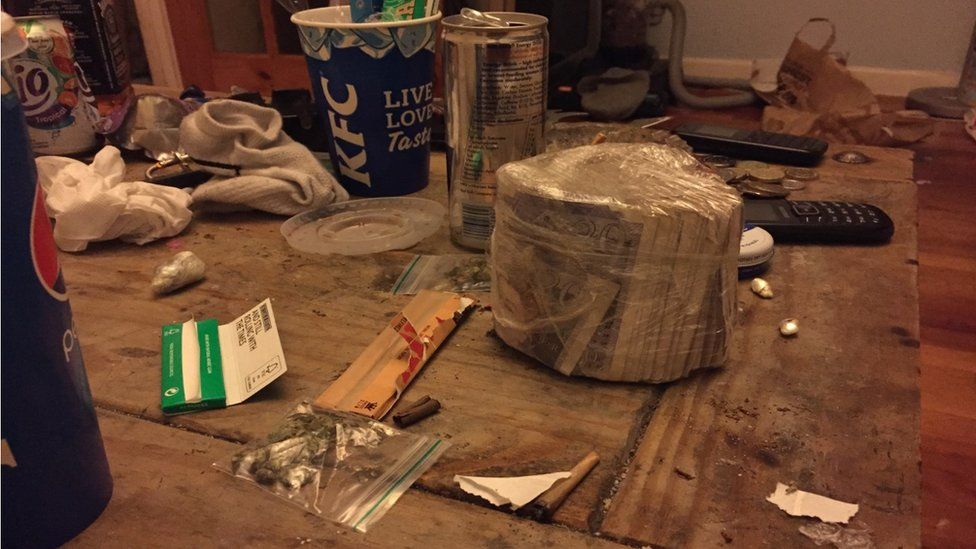 About 4,000 teenagers from London are being exploited and trafficked every year to sell drugs in rural towns and cities, a leading youth charity says.
Known as "county lines", gangs use children as young as 12 to traffic drugs, using dedicated mobile phones or "lines".
Anti-Slavery Commissioner Kevin Hyland said the figures were "shocking" and the exploitation was only slowly being recognised.
It comes as the Home Office announced it was putting £300,000 into a new pilot project to help young victims.
File on 4 spoke to one teenager about what it is like to be involved in a county lines gang.
Michael* was 13 years old when a friend at his school approached him about selling drugs.
Lured in by the prospect of making money, he began selling in his local area, but things escalated quickly.
The gang was soon sending him on jobs out of London with the promise he could make around £500 a week.
He was sent to the house of a vulnerable drug user that the gang had taken over in the Midlands, a practice known as cuckooing.
Using this as his base, he was out on the street selling heroin and crack cocaine, day and night.
"I was a bit shaky, I was actually scared," he says.
"But from the time you see the money, you're just thinking, 'OK, I can just bear a bit more.'"
Michael describes having a normal upbringing and a close relationship with his family.
Frantic about his long absences, he says, they would try to stop him by taking away his mobile phone - but as soon as he left his house, the gang would start hassling him again.
They would take him to a house where they ran a kind of breakfast club.
"Before you go to school you have breakfast there. I'd probably have a quick ride to school and then after school they come and pick you up as well," he says.
Despite living with a group of drug users, Michael says he "didn't really recognise the risks" or see how easily he could be attacked.
He describes how he once ended up staying in a graveyard after being left stranded hundreds of miles from home with nowhere to stay.
"They [drug users] could have found another drug dealer and told him 'listen, this guy is in a graveyard and he's got drugs'... anything could have happened, that experience was crazy."
After being arrested for possession of drugs, Michael decided to stop selling, but says it was not easy to leave the gang behind.
"They were trying to get at me but I moved away from the area, so I think that helped me a lot.
"I started to gain different knowledge and actually make my life something else and not just be another number."
'Promises become threats'
The charity Safer London has dealt with many teenagers like Michael, who are exploited to sell drugs for older gang members.
The charity's chief executive, Claire Hubberstey, said a frightening number of young people were at risk of being involved in county lines dealing.
"We have started recording when we've got concerns," she says.
Based on the number of young people they see, they estimate at least 4,000 young people are at risk every year.
She compares it to the way children are lured in to sexual grooming, saying initial promises soon turn into threats.
"Young people often talk about being physically locked in premises so they're not able to actually get out.
"Threats of coercion or violence mean they can be too scared to try to make their own way back - even if they have the means to do so."
She wants all of these young people placed on the National Referral Mechanism - meaning they would be treated as victims of trafficking and modern slavery, rather than being treated as criminals.
"They are exploited children, and they are being manipulated and exploited. Even if they don't see it, that doesn't mean that it's not happening", she says.
Anti-Slavery Commissioner Kevin Hyland said the extent of county lines exploitation was only slowly being recognised.
"We're waking up to it. Are we fully awake to it yet? Probably not, but we are starting to."
He says tackling it will require a change in the psyche of the police and other authorities to see young drugs traffickers as victims not criminals.
"It makes an enormous difference. You get it right, the whole process changes because you don't have that person in the dock, you start looking for someone else to put in the dock."
Sarah Newton, minister for Crime, Safeguarding and Vulnerability, said as well as new funding, the government had also taken measures including passing legislation to allow police to shut down the phone lines used to market drugs.
"It sends a very clear message that we will not tolerate this criminal activity."
*Michael's name has been changed to protect his identity.
Listen to more on this story on File on 4, on Tuesday 24th October at 20:00 BST on BBC Radio 4.
Related Internet Links
The BBC is not responsible for the content of external sites.