Grenfell Tower: Polyethylene cladding on scores of towers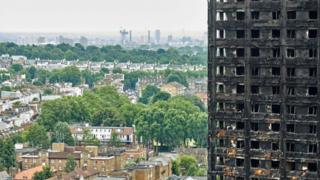 The same type of cladding believed to have contributed to the Grenfell fire is on at least 52 tower blocks in London, a BBC investigation has found.
Grenfell Tower was encased in panels made up of aluminium sheets with a polyethylene core, which melts and burns at extreme temperatures.
The BBC has now found it on buildings owned by councils, housing associations and companies. Some may not be removed.
The government says it is working with landlords to keep people safe.
Polyethylene-based cladding was found on 24 council tower blocks, 23 housing association buildings and five privately-owned high rises.
However, the true figure is likely to be considerably higher, as numerous local authorities and housing associations refused to give the BBC an answer.
'Like solid petrol'
Nationwide, cladding samples from 294 buildings have now failed government flammability tests - but it was not revealed how many were polyethylene-based or made of other materials.
In London, more than half of the 88 buildings that were tested failed.
Fire safety expert Arnold Tarling, a chartered surveyor, said: "It's like cladding your home in solid petrol.
"When it becomes liquid it melts, burns and sets fire to polyethylene at higher levels.
"We learned in the Great Fire of London it's not a good idea to clad buildings in flammable material," he added.
Polyethylene has become widespread because it is cheap and durable. Although it can be treated to make it less flammable, the added cost means this is often not done.
Figures from market research company The Freedonia Group given exclusively to the BBC suggest its use in construction is rising:
2008: 140 metric tonnes.
2013: 170 metric tonnes.
2018: 190 metric tonnes (projection based on polyethylene sales already made).
The BBC has also discovered that dozens of planning applications for recladding have been submitted in the capital since the fire. Most were not for tower blocks, but smaller homes, offices and shops.
Mr Tarling said: "There will certainly be other properties out there that haven't been identified.
"And I don't see why it becomes safe at lower levels - the speed of fire spread is so fast it will move on before the fire brigade arrive."
One tall building affected is Merle Court in Kilburn, north-west London. Issa Kaingu's entire flat on the sixth floor is enclosed in a polyethylene-based shell.
Not only did he lose his best friend in the Grenfell fire, but he can see the devastated building from his balcony and watched the fire take hold.
'Shaken'
Mr Kaingu said: "I am really worried. I have no idea what I'm going to do. I am at the top and if there's a fire it would be difficult to get down.
"I am really shaken and feel like I can't even stay here."
Housing association Catalyst initially had no plans to remove the material. After being contacted by the BBC, the provider said it might do so after all.
A spokesman said: "The safety of our residents is of utmost importance to us.
"Catalyst has no immediate plans to remove the cladding, however once we have received official guidance we can make a final decision."
In Hackney, the BBC discovered three buildings owned by Network Homes with the cladding.
They were initially thought to be over the 18m height at which building regulations get stricter, but have since been reassessed as being marginally below 18m. It is yet to be decided whether their cladding will be removed.
A Network Homes spokesman said a fire brigade assessment had judged the blocks to be safe, but remedial works may still take place.
Despite concerns over polyethylene cladding, the BBC was able to easily obtain numerous panels from suppliers that arrived without guidance or warning.
'Industrial scale'
Heated to half the temperature of a typical house fire during a test by Itri Laboratories, they melted and burst into flame.
Commenting on the figures, MP Andy Slaughter, who has a long-standing interest in housing, said: "We now know [polyethylene cladding] is used on on a huge, industrial scale.
"I am horrified, and it draws attention to the fact that more needs to be done.
"It's clear the standards adopted have not been sufficiently policed. We've got ourselves into a position we should never have been in, and only Grenfell has drawn attention to."
A Department for Communities and Local Government spokesman said: "Following the Grenfell tragedy, we have been working with local authorities and private landlords to identify buildings that might be at risk and ensure action is taken.
"This has included issuing government advice on interim safety measures.
"We have also published clear guidance so building owners can make informed decisions about long-term safety solutions for their buildings."
Additional reporting by Daniel Dwumfour.