Bodyform advert replaces blue liquid with red 'blood'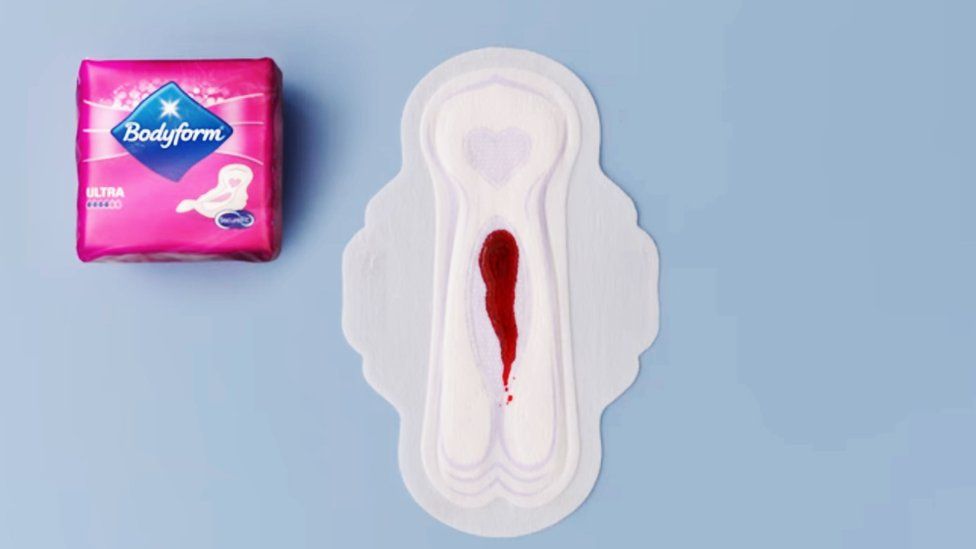 Bodyform has become the first brand in the UK to feature sanitary pads stained with red liquid, rather than blue, in its adverts.
Parent company Essity said it wanted to confront taboos surrounding periods.
The firm says research found 74% of people wanted to see more honest representation in adverts.
Bodyform's video campaign, #bloodnormal, shows a woman in the shower with blood running down her thigh and a man buying sanitary towels.
It follows a 2016 advert where sportswomen were shown muddy and bloodied while doing activities like bike riding, boxing and running.
With the slogan "no blood should hold us back", it featured a sanitary towel on a TV advert for the first time.
Sanitary brands and adverts have traditionally opted to use blue liquid in order to represent how much moisture their pads can hold.
The new campaign has been mostly well received.
YESSSS a marketing campaign that I think may finally change stereotypes of happy, white trouser wearing, yoghurt eating women on their periods. Thank you @bodyform ❤️ https://t.co/QrRlZ1OYgB

— Sophie Weaver (@Sophie_R_Weaver) October 17, 2017
Essity, the company which makes Bodyform, said it wanted to "challenge the stigma around periods".
Tanja Grubna said: "We believe that like any other taboo, the more people see it, the more normal the subject becomes."