Investigation into child abuse inquiry QC criticised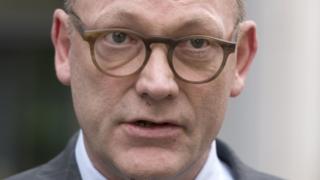 A report that cleared the former senior counsel to the independent inquiry into historical child sexual abuse in England and Wales of allegations of wrongdoing was itself seriously flawed, a review has concluded.
In December 2016, a report by former Director of Public Prosecutions Sir David Calvert-Smith cleared Ben Emmerson QC of sexual assault and harassment.
However, that has now been criticised by a retired judge asked to review it.
Mr Emmerson has always denied any wrongdoing.
According to the Times newspaper, the review by Dame Laura Cox criticised the legal approach taken by Sir David.
The BBC understands her review criticises the legal foundation on which Sir David based his decision that there had not been sexual assault or harassment.
It is also understood that the report criticised Matrix, where Ben Emmerson is in chambers, for accepting the original report's conclusions too readily.
It is understood the review by Dame Laura Cox did not make its own findings regarding whether or not any sexual assault or harassment had occurred.
'Challenging'
The review was commissioned after anger was expressed at the original report's findings.
A separate report by the Home Affairs Select Committee last year was highly critical of the way child abuse inquiry handled the original disclosure, saying the response was "wholly inadequate".
The inquiry subsequently appointed Mark Sutton QC to review its conduct.
A spokesperson for the child abuse inquiry told BBC Newsnight: "He has stated that the Chair and Panel were confronted with particularly challenging circumstances and the Inquiry responded in a way that was both appropriate and proportionate.
"The reports by Sir David Calvert-Smith and Dame Laura Cox are internal reviews commissioned by Matrix Chambers. The Inquiry has not had sight of them."
Matrix Chambers issued a press release regarding the finding of the original report, but have refused to comment on or confirm the existence of the subsequent review.
A spokesperson said: "Matrix does not intend to make any public comment on what are plainly confidential internal matters."
Mr Emmerson has also not commented on Dame Laura's review.
In October 2017, BBC Newsnight reported that the independent inquiry into child sexual abuse (IICSA) had been made aware of a disclosure of an alleged sexual assault involving Mr Emmerson.
'Shine a spotlight'
At the time of Sir David's original investigation, Mr Emmerson said: "This has been a difficult period and I am naturally very pleased that an independent senior judge has now confirmed that the allegations against me were always unfounded."
Reacting to the latest development, Labour MP Lisa Nandy said: "It's high time we saw some transparency and clarity from Matrix and the IICSA about these serious allegations.
"It raises critical questions about how an inquiry set up to shine a spotlight on abuse failed fully to investigate allegations of misconduct within its own organisation."
Matrix Chambers was founded in 2000 and is renowned for taking on high profile human rights cases.
Its website states that: "Matrix is a place where diversity and accessibility are widely championed and out-dated practice is challenged."