Hurricane Ophelia strengthens before storm reaches UK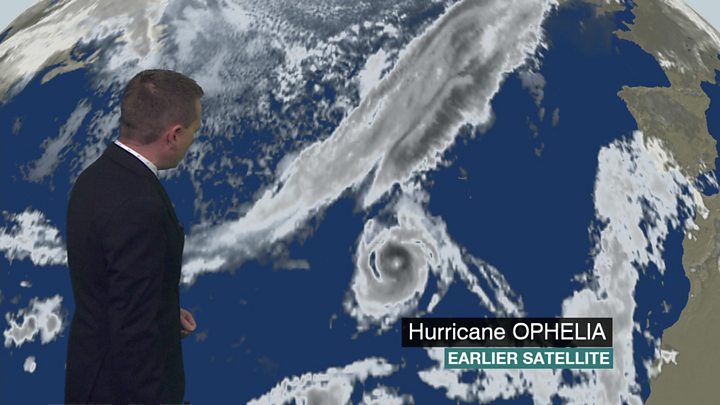 The UK is set to experience the tail end of a category three hurricane with high temperatures and wind forecast.
As a result of Hurricane Ophelia, parts of England could see temperatures reach 25C on Sunday beating the 15C average for mid-October.
On Monday some areas of the UK will be hit with winds of up to 80mph (128km/h).
The hurricane will be a storm when it hits the UK, exactly 30 years after the Great Storm of 1987 killed 18 people.
On its way from the Azores in the Atlantic Ocean, Hurricane Ophelia is currently blowing winds of 115mph (185km/h) setting the record for the most eastern category three hurricane in the Atlantic.
Category three hurricanes are defined as having wind speeds of between 111mph (179km/h) and 129mph (208km/h) and can cause major damage to well-built homes.
Though it is forecast to gradually weaken later on Sunday, the US National Hurricane Center said Ophelia would still be blowing hurricane-force winds as it approaches Ireland on Monday.
The Republic of Ireland's Met Office has issued a red warning for counties in Munster and Connacht, predicting that coastal areas will be hit by winds in excess of 80mph (130km/h) from 09:00 BST on Monday until Tuesday.
The ferocity of the hurricane will dissipate before it reaches the UK, but Ophelia's remnants are forecast to bring high winds in coastal areas.
Western England, Northern Ireland and parts of Scotland will be most affected by the storm winds.
The storm is often remembered for BBC Weather presenter Michael Fish dismissing reports that "there was a hurricane on the way".
Although he was right, storm winds of 100mph did batter the south of England, leaving a trail of destruction.
Eighteen people died and 15 million trees were destroyed as a result of the high winds.
It is thought that the storm caused £1bn in damage to property and infrastructure.
The Met Office has issued severe weather alerts ahead of Ophelia and has warned there could be potential power cuts, disruption to road and rail networks, and damage to buildings as a result of Monday's stormy weather.
But parts of England will benefit from the warm temperatures brought by the storm, with areas as far up as Nottingham expected to hit highs of 21C on Monday.
Clouds in central and southern England are expected to break up to provide sunny spells over the course of the weekend.
Some parts of the country have been enjoying a "mini heatwave" already. Ian Senior tweeted a screenshot of the temperature in Cambourne, Cambridgeshire, which was 17C on Saturday morning.
Jennie, who lives in Leeds, also wrote on Twitter that she never thought she would be "walk[ing] around bare legged wearing a skirt and short sleeved T-shirt" in mid-October.
But some parts of the country were still waiting for the temperatures to improve. Martin Cluderay, from Swaledale in the Yorkshire Dales, posted an overcast scene from the town titled: "Welcome to the heatwave."
West Scotland and Northern Ireland are forecast to receive heavy rainfall on Sunday.
BBC Weather has tweeted that Monday will bring "contrasting fortunes" - wild and windy in some western areas, warm and breezy in the east.
Get news from the BBC in your inbox, each weekday morning