Parsons Green bombing: Teenager to face trial over Tube attack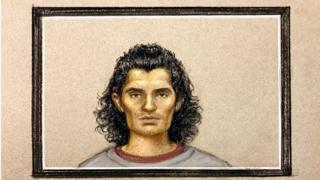 The man accused of placing a bomb that partially exploded on the London Tube last month will stand trial next year.
Ahmed Hassan Mohammed Ali, 18, of Sunbury, Surrey, is accused of attempted murder and causing an explosion likely to endanger life or cause serious injury.
In a hearing at the Old Bailey, he was told his trial would begin on 5 March.
A homemade bomb partially exploded in a train at Parsons Green station on 15 September, injuring 30 people.
It is alleged that the defendant built and placed an improvised explosive device on a train which then partially exploded at or near Parsons Green station.
It is further alleged that he intended there to be a larger explosion with the intention of killing and causing serious injury to the people on board.
The 18-year-old appeared briefly via prison video link and remains remanded in custody.
He will next appear at the Old Bailey on 19 January for a plea and case management hearing before his trial in March.