'Psychotic nympho' Halloween outfit criticised by psychiatrists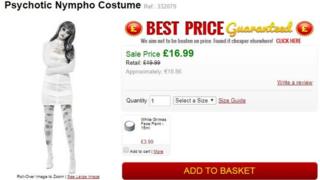 A fancy dress company has been criticised by psychiatrists for selling a Halloween costume they say stigmatises mental illnesses.
Escapade's "psychotic nympho" dress has straitjacket sleeves, a lace-up collar and optional face paint for the "seductive goth" look.
The Royal College of Psychiatrists said it was one of the worst examples of such an outfit it had seen.
Escapade has not yet responded to the BBC's requests for a comment.
'Misleading the public'
A description of the costume on Escapade's website says it is a "sensual outfit" that "expresses a lot of deep desires without you having to utter a single word".
The company also sells other outfits with the word "psycho" in it, including the "cell block psycho" costume and "psycho nurse Sally".
Dr Tony Rao, a psychiatrist and member of the Royal College of Psychiatrists, said outfits of this kind stigmatised those with mental illnesses by suggesting people should be afraid of them.
He told the BBC: "If you're going to use words like "psychotic" and associate it with "nympho", very pejorative, dramatic and shocking terms that are designed to get sales, then I think that is misleading both the perception of mental illness and misleading the public in promoting the idea that it's something we should be afraid of."
In recent years a number of retailers have withdrawn similar items from sale after they were criticised.
In 2013, Tesco and Asda withdrew two Halloween outfits - a psycho ward costume and a mental patient outfit - following complaints.
The retailers apologised and agreed to make donations to the mental health charity Mind.
Dr Rao said there were "far fewer offensive costumes" for this year's Halloween, but he said those that are sold set back the public perception of mental illnesses "several decades".
This could contribute to people being discouraged from seeking treatment, he said.
"The royals, reality TV stars, music stars, have done an excellent job in encouraging people to keep the conversation going about reducing stigma.
"But what these costumes are doing is portraying an ignorance of those with severe mental illness, which is still in some ways seriously misunderstood by the public."
Escapade has yet to respond to requests for a comment.