Should we all impose a one-gift rule at Christmas?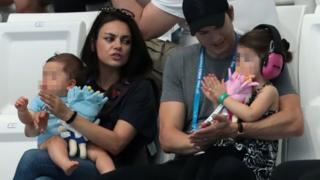 Hollywood stars Mila Kunis and Ashton Kutcher are implementing a "one-gift" rule this Christmas for their two young children so they don't grow up spoiled.
The rule comes after their daughter, now three, was showered with presents last year.
"We didn't give her anything - it was the grandparents. The kid no longer appreciates the one gift," Mila told Entertainment Tonight.
So now the children's grandparents have been asked to pick one gift only or make a charity donation.
The celebrity couple are not alone in grappling with the very first world problem of too many gifts at Christmas.
The Mumsnet website is awash with discussions on how to persuade grandparents to rein in their spending.
One mum describes her own mother giving her two bin bags full of Christmas presents for her daughters, one of whom was a babbling six-month-old baby.
So, why do grandparents do it?
It's an emotional thing, says Naz Brown, who has four granddaughters, aged four, three, one and seven months.
"I love to spoil them. This year at least two of the grandchildren are with us so I'm taking over my mother-in-law's house and making it very festive.
"I will make a point of getting Christmas stockings for everyone, even the grown-ups."
Naz plans to hit the shops soon, with her eyes on clothes, toys and books and a flexible budget of up to £70 for each grandchild.
Things weren't the same when she was a young mother. Her boys got a couple of Fisher Price toys and some Lego.
"There are many more expensive toys on the market now," she says. "It's very difficult for parents not to spend a lot of money."
Her two eldest granddaughters already have iPads.
"If you are getting them at two or three, where do you go from there?" she asks.
Can we spoil children with too many presents?
When we are given a lot, we expect to receive a lot, says clinical psychologist Linda Blair.
Even if it's only at Christmas and on birthdays, it will impact on children's attitudes.
She says that by focusing on the children's presents, the emphasis moves away from sharing and giving - which research shows bring longer-lasting good feelings.
And quite practically, she says, the little ones can't enjoy everything they get.
Clive Whichelow, author of Grandparenting for Beginners, disagrees.
"Grandparents are like grown-up kids themselves. They are more on a level with the grandchildren than the parents.
"The grandparents are in collusion with the kids. Parents are there as moral arbiters.
"Parents need to take a step back and let grandparents spoil them - that's part of their job," he says.
What to buy?
Have in mind The Prophet, says Linda Blair.
In his 1923 classic, the philosopher Kahlil Gibran tells us: "You give but little when you give of your possessions. It is when you give of yourself that you truly give."
Linda, mother of three and stepmum to three more, advises doing Secret Santa with a price cap.
That way you are thinking about what you are giving and you are more equal with everyone else, she says.
Or, if you want to give a gift, give your time. Take them out, go for a pizza, a film, listen to them, she advises.
Those are gifts that have so much more value than anything you can buy in the store, she adds.
Naz says she will be giving her sons her time - babysitting for her granddaughters to give them a night off.
But for her granddaughters, she will splurge.
"I can feel less guilty now about buying nice dresses for the eldest as I know they'll be handed down," she says.
She's also building up a Beatrix Potter book collection for one of her granddaughters and can't wait to give them her childhood favourite, the Magic Faraway Tree, when they're a little older.
Is it time to rewrite the rulebook?
We've had the four-gift rule - something they want, something they need, something to wear and something to read, and now the one-gift rule, says writer Clive Whichelow.
But has anyone told Santa Claus about all this? he asks.
Naz says no rules have been imposed on her yet.
She does ask her sons what the girls would like, and buys from a list of little things.
"Then we'll buy them a bigger present too," she explains.
But for parents with small flats and indulgent grandparents, Mumsnetters, in typical no-nonsense fashion, have some short-term solutions.
Donate them to the Salvation Army's toy appeal, Women's Aid or a local children's hospital unit - or hide them in a cupboard and bring them out through the year.
The harsher among them advocate selling them online or regifting them.
For a longer-term fix, psychologist Linda recommends having a chat.
Do it face-to-face in a public place, she warns, as you're less likely to lose your temper or become emotional.
"Tell them: I want to raise my children with the values I have.
"You gave me those values because you didn't have so much. I want you to help me pass those values onto my children."