The government nudges itself over race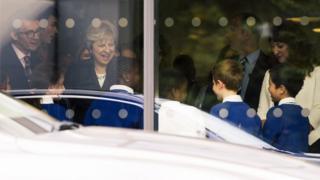 It is fitting, perhaps, that the launch of the government's so-called "race disparities audit" comes the day after American economist Richard Thaler was awarded a Nobel prize for his work on behavioural economics and nudging, because that is what this project is about.
It is a giant nudge to change behaviour on issues of race inequality. The odd thing is that the project is not a government trying to nudge the people. It is a government trying to nudge itself.
The prime minister has dedicated her premiership to fighting burning injustices and says she is determined to shine a light on disparities between different racial groups in the UK on a range of areas - health, education, job prospects, housing and so on.
A focus on the many and often troubling differences is - of course - no bad thing, but people might well wonder why we need a public website to get Whitehall departments to take an interest.
Lack of progress
The race audit commissioned no new research.
All the information on the website comes from Whitehall departments, the vast majority of which is already in the public domain.
Indeed, most of the shocking headlines of disparity from the audit have been reported upon, discussed and debated many times.
This shouldn't come as a revelation.
Another prime minister, James Callaghan, established the Commission for Racial Equality back in 1976 to deal with racial disparity and discrimination. It is still going, now part of the Equalities and Human Rights Commission, a government quango whose job is to promote racial equality.
The Social Mobility Commission, another quango set up in 2010, has written many reports on racial disparities, and sent them to ministers.
It is perhaps a recognition of the inability of these bodies to get their messages across over decades that we apparently need a race audit website - a pull together of 60 of all the 300 data sets that relate to the experience of different racial groups.
'Explain or change'
The people being nudged are the people who sit around the cabinet table with the prime minister - her own government. "Explain or change," the PM will tell them. Where disparities exist, ministers will be encouraged to explain why they exist.
There may be understandable reasons why all races do not experience the same outcomes.
It might be a factor of demographics or income, cultural differences or even the chances of developing certain medical conditions. But if the explanations don't stack up, then departments will be expected to introduce measures to change them.
Today's launch is accompanied by some new initiatives. The Department of Work and Pensions has used its own data to identify 20 hot spots where people from racial minorities struggle to access the jobs market, and will now reintroduce a mentoring scheme that was abandoned 10 years ago.
The question remains, though. Given that ministers have known about these "troubling" and "shocking" disparities for years or even decades, why does it take a prime ministerial nudge to get them to take action?