Anne Robinson on her abortion 'black doom'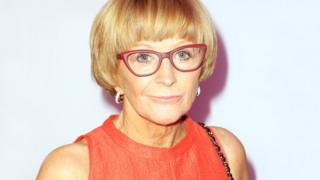 TV presenter Anne Robinson has recalled feeling the "most terrible black doom" after having an abortion the year after they were partially legalised.
Robinson spoke of it for the first time in a BBC Two documentary, Abortion On Trial, being shown to mark 50 years since the 1967 Abortion Act.
Overall, most of those involved in the programme said the decision to have an abortion was right for them.
They argued it was their right to have control over their own body.
'Keeping quiet'
Speaking ahead of the documentary's broadcast, Robinson questioned why abortion was not more openly talked about.
"This all has been there for 50 years and we are still hesitant and ashamed," she said.
Robinson, who later had one child, said "keeping quiet" about her own experience was "out of the question" when she had asked people to talk about theirs.
In the documentary, filmed at her home in Gloucestershire, the journalist tells the group of eight women and one man - who all have experiences of abortion - that she had a termination in 1968 when she was newly married.
Robinson, from a Catholic family, describes feeling confused, terrified and "very, very lonely".
"The only way I felt I could go through with an abortion was if I didn't talk about it," she says.
"I was ashamed of what I had done... I have tried very hard not to think about it.
"And I can see a lot of that is inherent shame in me after all these years. And it is nearly 50 years ago."
In the years since, she said, she "hadn't allowed herself to regret" the decision.
Robinson had previously written about the experience in her 2001 book, Memoirs Of An Unfit Mother, but this documentary is the first time she has talked about it on camera.
---
'Women need to be listened to'
Some of the other women in the film described the problems they faced travelling long distances to clinics for an abortion, and debated where they felt the legislation around termination needed to change.
One woman explained how she'd had two terminations but had later adopted an anti-abortion view.
Mum Sally said she had faced some "hard questions" from friends over her decision to have three abortions, as she had eight miscarriages while trying for a second child.
"To not be able to talk about it, if you are not happy [with a pregnancy], is very damaging," she said.
"Women need to be able to stand up and talk openly with the confidence they will be listened to and supported."
Her view on anti-abortion demonstrators changed during the filming, she says, having heard the views of another contributor, Rachel.
She "just wants there to be an alternative for women", Sally said, adding: "It was refreshing to be friends with someone with an opposing view."
---
The Abortion Act allows terminations to legally be performed under certain conditions - they have to be agreed by two doctors and carried out by a doctor in a government-approved hospital or clinic.
But a poll of 2,002 adults conducted for the documentary found that 69% thought abortion was completely legal if a woman simply requested it.
The survey found that attitudes were split on whether abortion should be a criminal matter, with 39% thinking it should be and 34% not.
It also found:
38% said abortion should be permitted if any type of disability was found which the parent(s) feel unable to cope with
55% said abortion on the grounds of gender should never be allowed
37% think there should be no legal limit on the number of abortions a woman should have in her lifetime
The programme also discusses whether women should have the right to take abortion pills at home.
Self-induced abortion is a criminal offence under the Offences Against the Person Act 1861 and two women have been jailed in recent years for using medication bought online.
In 2012, Sarah Catt, 40, was jailed for eight years for terminating her pregnancy at 39 weeks.
Natalie Towers, 26, was sentenced to two-and-a half-years in 2015 after terminating her pregnancy while she was between 32 and 34 weeks.
MPs debated the decriminalisation of abortion in March 2017.
---
Abortion and the law
Most abortions are carried out before 24 weeks of pregnancy - for example, when two doctors agree that continuing the pregnancy would involve greater risk to the physical or mental health of the pregnant woman or any existing children of her family than if there was a termination
They can be carried out after 24 weeks in certain circumstances - for example, if the mother's life is at risk
Abortions are usually available free-of-charge on the NHS
Abortion is a criminal offence in Northern Ireland. The exceptions include to save a woman's life, or if there is a risk to her health
Source: NHS choices
---
Abortion On Trial is on BBC Two at 21:00 BST on Monday 16 October