Dramatic Grenfell baby story probably never happened
By David Grossman & Dan Newling
BBC Newsnight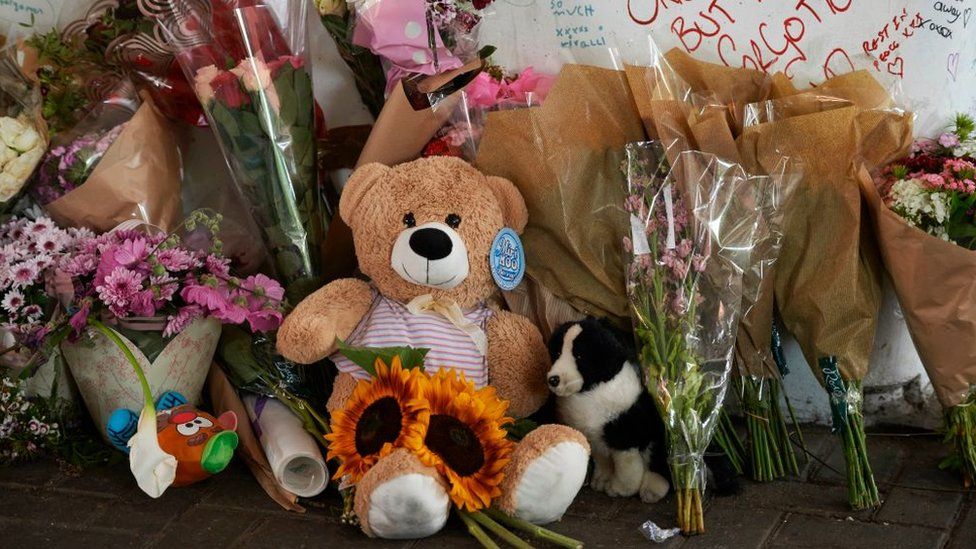 One of the most dramatic stories from the night of the Grenfell Tower blaze - that a baby was thrown from a window and caught - probably never happened, a BBC investigation has concluded.
The news was reported in the media right across the UK and the world.
But neither the police nor ambulance service have a record of the event, and experts have questioned whether it is scientifically possible.
No witnesses quoted at the time were willing to be interviewed on camera.
The report, by BBC Newsnight, found the first reference to the story can be traced back to 10:08 on 14 June while firefighters were still battling the blaze.
The Press Association tweeted an interview with a woman named Samira Lamrani.
She told them that she had witnessed a woman on the "ninth or 10th floor" throwing a baby from a window and that the child was caught by a man below.
Newsnight contacted Ms Lamrani but she declined to be interviewed. "My memory of that night is fading… I don't want to talk about it," she said.
Another witness quoted at the time was the broadcaster and architect George Clarke who told Newsnight on the day of the fire that he saw a man catch "a kid" thrown out of the window from the eighth floor.
When we contacted him for this report, he told us he did not wish to make any comment on the matter at all. "It's such a contentious issue and I think it's so hurtful to so many people," he said.
On the 16 June, two days after the fire, a dramatic account of a similar sounding incident appeared in The Sun newspaper. It was subsequently picked up by many other news organisations.
The story features photographs of a man holding a young girl. The Sun names him as "Pat" and says the picture was taken just after he had caught the girl, aged 4, who the newspaper said had been dropped from the fourth floor.
However, we tracked down the man in the picture. His name is Oluwaseun Talabi, and the girl he is holding in the picture is actually his own daughter. The pair had escaped the fire by walking down from the 14th floor.
Belief in this miracle doesn't seem to have diminished in the streets around the burned-out tower. If you ask local residents some will tell you that they are certain the story is true, although they didn't see it themselves.
Newsnight has attempted to contact every person quoted as saying they did see the baby thrown and caught. Some told us that they had been misquoted. For some supposed witnesses, we found no evidence that they actually exist at all. None of those we could track down were willing to go on the record and give us an on-camera interview.
One local resident, Jody Martin, has a theory about where the baby story originated. He arrived at the scene of the fire at about the same time as the first fire crews, just after 01:00.
He says his attention was drawn to activity on the third or fourth floor.
"There was an African-Caribbean lady with her baby and she was leaning out the window," he says. "It was more like a toddler. And there was smoke just billowing out behind us, so obviously she was just trying to get oxygen. So she was at the lowest point of the ledge, you know right down low, top half of her torso hanging out, but her infant at arm's length."
Jody is clear that the woman was only minutes away from being rescued by fire crews and wasn't throwing the baby, just trying to make sure it had enough air.
According to psychologists it is common in fast moving situations for witnesses to see part of an event and then assume what happened next. There is nothing dishonest about this. It is just how we formulate memories.
As experts told us, human memory isn't a video tape - it is a best guess assembly of often incomplete or even contradictory information.
There is another reason we should perhaps be sceptical of this story. The physics of such a fall would make serious injury to any child and anyone who tried to catch it a probability according to medical experts.
Even dropped from five storeys or 15m, an object would be travelling at 17.15m per second or 61.73km per hour (38mph).
Double the height to the 10th floor, or 30m, and an object is travelling at 24.25m per second or 87.3kmh (54.2mph).
Any fall from above one storey would likely result in serious injury, irrespective of whether someone tries to catch the child or not, according to Dr Dan Magnus, Consultant in Paediatric Emergency Medicine at the Bristol Royal Hospital for Children.
"I would be sceptical of a baby falling from a very high height and someone catching that baby would somehow make the fall benign. I think that is difficult to understand," he said.
If this event had happened you would think that there would be some official record of it, but Newsnight has established that neither the police, nor the ambulance service know anything about it, and no children from Grenfell were treated at hospital for the serious physical injuries likely to have resulted from such a fall.
The Metropolitan Police could not have been clearer in their statement: "We have no record of this incident."
It is often not possible to definitively say something didn't happen. All we can do is search for the witnesses and scrutinise the evidence.
We have done that and haven't turned up anything that suggests this amazing event actually happened. Indeed all the available evidence points to the opposite conclusion.