Foster carer fights for workers' rights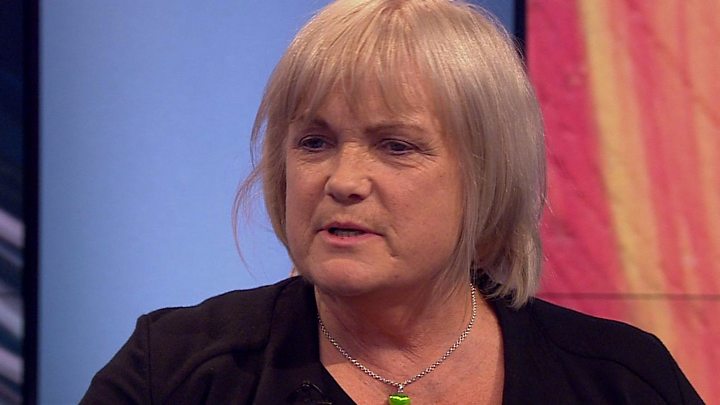 A foster carer is launching a legal claim to argue for workers' rights for people in her role.
Sarah Anderson is used by Hampshire County Council but does not have the rights of a "worker", such as holiday pay or discrimination protection.
In what could be a landmark case, she will fight to have foster carers classified so they will be entitled to the same benefits.
The council says the law is clear and foster carers are not "workers".
Ms Anderson has been a foster carer for 10 years, but has been engaged by Hampshire County Council for four.
During that time, she and her husband, Timothy Tallent, have provided a home for 10 children.
"I can be on call 24 hours a day - evenings, weekends, Christmas, bank holidays - and all we are afforded is two weeks' respite a year," she said.
"Our lack of rights extends beyond any proper holiday entitlement - we have no employment rights whatsoever and we can lose our jobs on a whim overnight."
Ms Anderson, who chairs the foster care workers branch of the Independent Workers Union of Great Britain (IWGB), hopes by issuing a claim to an employment tribunal against the council, her situation - and that of others like her - will change.
"We fear being unwell, either physically or mentally, as this can also easily lead to us losing our jobs," she added.
"Pay can be slashed and we are unable to do a thing about it. We can be, and are, discriminated against."
Weekly allowance
There are about 55,000 fostering households in the UK caring for some 64,000 children.
Carers tend to work for local authorities, or for charities or private companies that act on behalf of councils.
They receive a weekly allowance to cover the costs of the children they care for. The sum can range from £150 to £500 per child, depending on factors such as how demanding the child is.
Many carers, including Ms Anderson, also receive a fee to compensate them for their work.
They have not traditionally been regarded as "workers" - a legal category which derives in part from EU law, but which falls short of "employee".
"Workers" are not entitled to the full set of employee rights, but receive some, such as paid holidays, the national minimum wage, pension contributions under auto-enrolment, and protection from discrimination.
Dr Jason Moyer-Lee, general secretary of the IWGB, said: "Foster care workers are not merely substitute parents. Many, like Sarah, are highly qualified, rigidly supervised, and paid for the work they do.
"Despite this, unfortunately, local authorities and private fostering agencies have not recognised these carers as having any employment rights."
'Employment relationship'
Hampshire County Council said it was not aware of any case having been brought against it at this stage, but highlighted case law establishing that foster carers are not workers.
Tribunals and courts in England have ruled that the written agreement foster carers have with local authorities or fostering agencies is not a legal contract, which is a necessary requirement for someone to be classed as either a worker or employee.
The Court of Appeal has also said that foster care agreements are not contracts because their terms are set out in law and not freely entered into and negotiated by the parties.
However, the Glasgow Employment Tribunal found that some specialised fostering agreements could be shown to be different from those the Court of Appeal was considering, and deemed the carers concerned "employees".
Ms Anderson argues that she too has a contract. She also believes she is in an "employment relationship" with the council, as defined by EU law - meaning she is entitled to four weeks of paid leave under the EU Working Time Directive.
Dr Moyer-Lee added: "Sarah's case is about establishing those rights so that foster care workers can have the time off and rest they need, and the pension contributions they deserve."
---