Woman arrested for climbing Buckingham Palace gates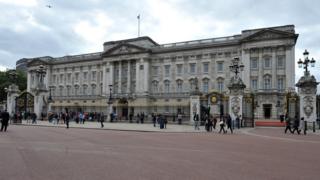 A woman has been arrested for trying to climb the front gates of Buckingham Palace, the Metropolitan Police said.
She was detained by police officers at 17:40 BST and did not gain access to the palace grounds.
The woman, believed to be in her 30s, was arrested on suspicion of trespass and is currently in custody at a central London police station.
The incident is not being treated as terrorism-related, a police statement added.
Videos on social media showed a woman who appeared to be shouting as she was led to a waiting police car.
A crowd of tourists had gathered, with many of them filming the incident on their phones.