Grenfell Tower: Safety cash not released, councils say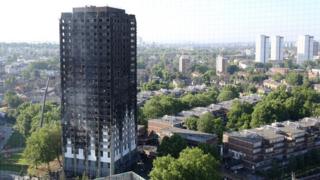 The government has not released funds to make tower blocks safe following the Grenfell Tower fire, according to some councils.
Several local authorities in England and Wales say funding requests for refurbishments such as new cladding and sprinkler systems are not being met.
Jane Urquhart, from Nottingham City Council, said some works were regarded as "additional rather than essential".
The government said it had asked councils for more detailed proposals.
Police believe at least 80 people died when fire engulfed Grenfell Tower in North Kensington, west London in the early hours of 14 June.
Sprinklers 'would have saved Grenfell'
Grenfell Tower: Who were the victims?
Reality Check: Why don't all high-rises have sprinklers?
Ms Urquhart, a Labour councillor, told BBC Radio 4's Today programme that "safety must come at the top of the list".
She said: "Given that in the refurbishment of the Houses of Parliament sprinklers are considered essential... we thought it was quite incredible that they were essential for the Houses of Parliament but not essential for residents of high-rises."
Adam Hug, leader of the Labour opposition group on Westminster City Council, said the authority had faced difficulties securing funding from Communities Secretary Sajid Javid's department to pay for the removal of cladding and installation of sprinklers.
"Ultimately these are things that the London Fire Brigade says have to be done and ultimately the cost is having to be borne by the housing revenue account, which is tenants' rents and service charge fees," he said.
"Councils across the country are asking the government for the help that Sajid Javid promised and they are being told 'no, only in exceptional circumstances when you literally don't have the money in any form'."
Mr Hug described the situation as a "national civil emergency across the country", adding that councils have complied with regulations but "the government is not stepping up to the plate".
According to the Guardian other councils, including Croydon and Wandsworth, have also seen requests for funding declined.
Fire safety expert Paul Atkins, who was previously contracted to work on Grenfell Tower, told the BBC last month that sprinklers would have stopped the flames from spreading.
"If they'd had a sprinkler system the fire would have been deluged before it got to the cladding," he said.
"People would've had plenty of time to leave the building."
Mr Atkins said no-one had ever died in a fire when a sprinkler system was present in the building.
Public safety 'paramount'
The Grenfell Tower fire started in a Hotpoint fridge freezer, and was not deliberate, police have said.
The flames ignited the cladding on the outside of the building, spreading across the exterior of the tower block with what police described as "unexpected" speed.
Police also said the building's cladding and insulation failed subsequent safety tests.
A spokesman for the Department for Communities and Local Government said public safety was "paramount".
He added: "Building owners are responsible for funding measures designed to make a building safe.
"We've been clear that where a local authority has concerns about funding essential fire safety measures, they should contact DCLG as soon as possible to discuss their position.
"The department has written to Nottingham, Croydon and Wandsworth councils inviting them to provide more detail about the works they propose. To date these authorities have not submitted this information."