Organ donation opt-out plan: What do people waiting for transplants think?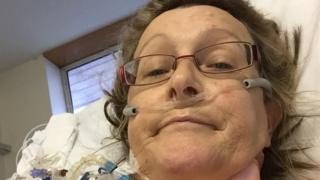 At home, Julie Bartlett has her bags packed and people on standby to drive her to hospital, just in case she receives a phone call saying doctors have a heart that is a match for her.
If the call comes, she'll have a couple of hours to get to Harefield Hospital in west London - she can even rely on a police escort if she gets stuck in traffic.
"That call could be this afternoon. It could be never," she says, but she's optimistic that government plans for a new organ donation system of presumed consent in England might boost her chances significantly.
While the policy content of Theresa May's conference speech on Wednesday might have been overlooked, one of the prime minister's announcements could potentially save many lives - about three people a day in the UK die because of a lack of organ donors.
The Conservatives are proposing a consultation on changing the organ donation system in England from opt-in to opt-out, meaning people's organs could be used in transplants when they died unless they expressly said otherwise.
Currently, anyone who wants to donate their organs after death has to "opt in" through the donor card scheme.
There are currently 6,500 people waiting for an organ donation and it is hoped the new system would see more organs becoming available.
What do people waiting for an organ, and recent recipients of life-saving transplants, think of the proposed changes?
Life in limbo
Last Christmas, former midwife Julie Bartlett was fitted with an LVAD - a mechanical pump for the heart known as a "bridge to transplant" - but what she really needs is a new heart.
"I could kiss Theresa May - although she's got that bad cold," she said.
"It was something that I have been waiting for, for a long a time - the sooner they do it, the better."
In 2009, Julie was diagnosed with heart failure and never expected to see her first grandchild or go to her daughter's wedding.
After it became end-stage heart failure and she was in a hospice, the option of the LVAD was presented to her.
"My quality of life is good now, but I have good days and bad days," she says.
The LVAD means Julie is permanently attached to two lines, has to recharge batteries overnight and can shower only weekly because of the wound.
"There are limits, but I'm very blessed to have one and it's better than being bedbound in a hospice," she says.
However, a new heart would transform her life. It would even free her to travel abroad, as while on the waiting list she must stay in the UK.
Freedom
While she waits for that heart, Julie lives in limbo.
She believes families should have the final decision over donation, as they do under the Welsh "soft opt-out" system - where if the individual's family objects, their organs are not removed.
"Families need to share what their wishes are, so they are less likely to go against the person's wishes. It's a gift," she said.
The Victoria Derbyshire programme spoke to 12-year old Matthew Pietrzyk, who spent eight years on dialysis after he was born with failing kidneys which had to be removed.
He and his mum Nicola told the programme that the transplant has not only "given him his life back" but had also transformed those of his brothers and parents.
The family can now go on holiday and make plans without the fear of emergency hospital visits.
Nicola said she can finally "be a mum" instead of a nurse.
Matthew believes that the new opt-out scheme will "save lives".
But another patient in need of a kidney donor is not so impressed with the proposals.
Kerigh Palmer, from Hertfordshire, whose first kidney transplant failed this summer, said the change would be "pointless" because, under the system the government is proposing, families could still stop donations.
"The majority of possible transplants are blocked by family members," she says.
"I don't think doctors should be saying 'these are your loved one's wishes, now what do you want to do?'"
"It takes away the individual's choice."
Kerigh's transplant story has been long and full of hurt. After her kidneys failed in 2015, her wife, Julie, offered to donate hers.
But they weren't compatible so Julie donated to another patient, and Kerigh, 40, received hers from someone else.
Julie's recipient's transplant was a success. Kerigh's, though, was not - complications during surgery meant it failed at the last hurdle.
As she drifted in and out of consciousness after the operation, she heard the words: "We are very sorry that it did not work."
"Is it true?" she asked Julie, who was lying in a hospital bed nearby.
"It was devastating. That person is living with my kidney effectively. We feel pretty bitter."
Straight after the gruelling failed operation, she was back on dialysis twice a week.
"I'm trying not to think about what's happened, because I will depress myself.
"I'm thinking ahead to Christmas, because I love Christmas. I'm not thinking 'where's my next kidney coming from?'"
But she admits it would be life-changing to have a successful transplant.
"I wouldn't be tied to the hospital, I could work full-time without having to work from hospital, I could go abroad on holiday, eat what I like, not have to second-guess everything I do."