Theresa May speech prank prompts security review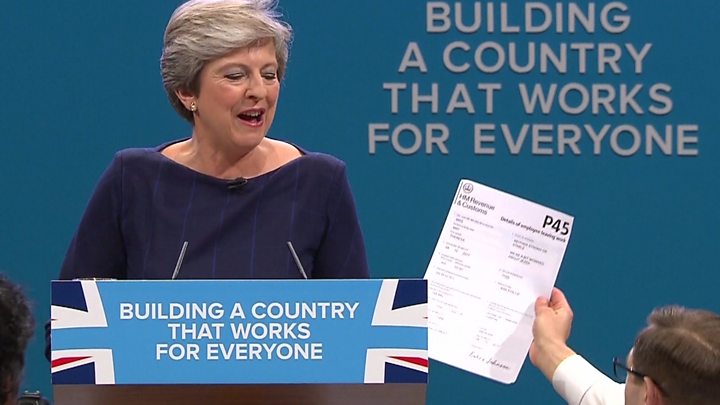 Security at future Conservative Party conferences will be reviewed after a prankster got close enough to the prime minister to hand her a P45.
Comedian Simon Brodkin - also known as his TV persona Lee Nelson - handed the sheet of paper to Theresa May in the middle of her speech.
He was arrested by Greater Manchester Police to prevent a breach of the peace, but later released.
The force said he had "legitimate accreditation" to attend the event.
Brodkin approached the podium as the PM was giving her address to close the conference.
He held piece of paper up to Mrs May, which she took amid a sea of photographers.
He allegedly told her that the P45 was from Foreign Secretary Boris Johnson, before giving her cabinet colleague a thumbs up.
Brodkin was then led out of the conference hall to angry shouts from party members.
The paper, a faked P45, was later discovered on the floor of the hall.
After being released by police, the comedian tweeted Mr Johnson.
Brodkin has a reputation for carrying out pranks at big public events.
Political moves by the comedian include throwing US dollar bills over former Fifa president Sepp Blatter during the football organisation's bidding scandal.
He was also found handing out Nazi golf balls at a Donald Trump speech.
During Glastonbury Festival in 2015, he ran on to the stage as Kanye West was performing.
He pulled a similar stunt on The X Factor in 2014 as boy band Stereo Kicks were playing.
The incident split opinion online. Some praised the prank, including fellow comedian Russell Kane who tweeted that he was an "absolute ledge".
But Conservative MP George Freeman, head of the prime minister's policy board, said: "There should be some very serious questions - that could have been a terrorist."
He added that "questions will be asked about how he was allowed to get that close".
Even opposition MPs stepped in, with Labour's Angela Eagle tweeting that whilst the incident was "harmless", there were "worrying questions about her security".
Fellow Labour MP Angela Rayner added to the concern.
Shaun Hinds, chief executive of Manchester Central - where the conference was being held - said: "At the time of the disturbance, conference security protocols were immediately enacted resulting in the individual being quickly ejected from the venue and handed over to [police]."
A Conservative spokesman added: "In light of the arrest during the prime minister's speech we are working with the police to review the accreditation process and security arrangements for party conference."