The slam dunking bunny and other record-breaking animals
A cat with a tail almost half a metre long and a rabbit that can play basketball are just some of the animals that have bagged a world record title.
Their achievements have been celebrated in the first ever dedicated animal Guinness World Records book - Guinness World Records: Amazing Animals.
Here we take a look at some of the new stars:
Who: Skipper Blue the Macaw
From: California, US
Title: The most rings placed on a target by a parrot in one minute
Record: 19
Who: Freddy
From: Leigh-on-Sea, Essex, UK
Title: Tallest living dog (male)
Record: 1.035m (3ft 4.75in) tall
Who: Coon Cygnus
From: Michigan, US
Title: Longest tail on a living domestic cat
Record: 44.66cm (17.58in)
Who: Arcturus Aldebaran Powers
From: Michigan, US
Title: Tallest domestic cat (ever)
Record: 48.4cm (19.05in)
Who: Bini the Bunny
From: California, US
Title: Most basketball slam dunks in one minute by a rabbit
Record: Seven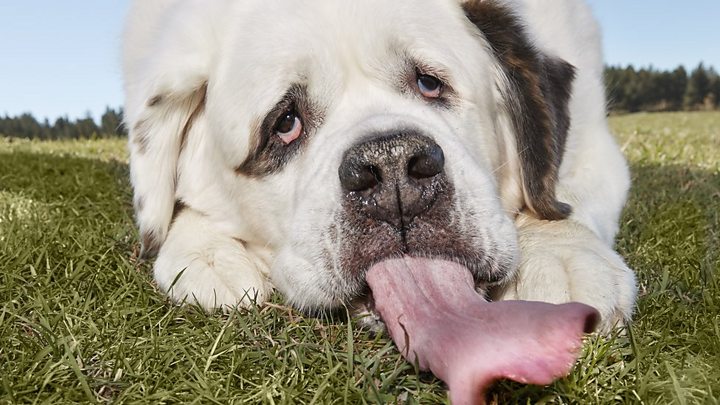 Who: Mochi
From: South Dakota, US
Title: Longest tongue on a dog
Record: 18.58cm (7.31in)
Who: Neo
From: Minehead, Somerset, UK
Title: The fastest 10-hoop/tyre slalom by a dog
Record: 8.58 seconds
Neo is owned by Stephen Bailey, 36, who bought the border collie from a local farm when he was eight weeks old.
When did you recognise Neo's talent?
I recognised it from a young age. We took part in agility competitions and then I posted a video of him on YouTube showing off his skills and one of the moves he performs is similar to the 10-hoop slalom.
How did the record attempt come about?
I was contacted by Guinness World Records as they had seen the video and they asked if I wanted to set a record with Neo. We decided on a course and I set it up in my garden and we started practising.
How much training did you do?
We didn't do that much. I'd come home and take him out in the evening too. We probably had about a month before we did the record attempt. The difficulty was working out how to get the fastest time. Neo would go really fast but would sometimes overshoot the jumps. If I wasn't with him he would miss out some of the hoops.
How do you feel about having a world record?
I was really pleased with the time he achieved. The fastest he'd ever got was about 8.48 seconds so the record was very close to the absolute quickest time he had gone. The Guinness World Records team said they were looking for something under 30 seconds, so the fact Neo did it in less than 10 is really incredible.
He's an incredible dog. He's really well focused and trainable. It's amazing to have a world record. I'm hoping he will be able to keep it for as long as possible. I don't think another dog would be able to do it much quicker. If someone else beats the time then we will just have to try it again.