More young people in the UK identify as LGB, ONS finds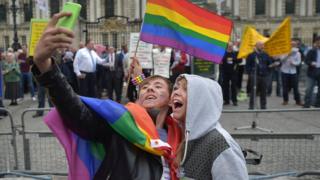 Around one in 25 young people in the UK identify as lesbian, gay or bisexual, new figures suggest.
The Office for National Statistics said 4.1% of 16 to 24-year-olds identified as LGB, up from 3.3% in 2015.
Across all ages, the ONS noted a "statistically significant increase", with 2% of the population - more than a million people - identifying as LGB last year, compared with 1.7% in 2015.
Some 2.3% of UK men said they were LGB, compared with 1.6% of women.
Scotland had the highest LGB population in the UK last year, with 2.2%, while England followed with 1.9%.
Northern Ireland and Wales both reported an LBG population of 1.7%.
London remained the region with the highest proportion of the population identifying as LGB, 2.7% - a slight rise on the previous year's figure of 2.6%.
The north west of England had the second highest proportion of the population identifying as LGB, at 2.3%.
In contrast the east of England had the lowest proportion, where 1.2% of the population identified as LGB.
ONS statistician Emily Knipe said London's leading position could be down to its "relatively young and diverse population".
She pointed out that in London, the median age of the population was 34.8 years last year, compared with 41.5 years in the east of England.
Ethnic divide
Stonewall, a lesbian, gay, bisexual and transgender (LGBT) rights group, warned that while many people might be comfortable answering an anonymous survey, they may struggle to open up about their identity in public.
A Stonewall spokesman said: "To ensure that LGBT people feel safe and supported, it is vital to recognise the discrimination and anti-LGBT abuse that still exists.
"Our recent hate crime research shows that one in five LGBT people (21%) have experienced a hate crime or incident due to their sexual orientation and/or gender identity in the last 12 months."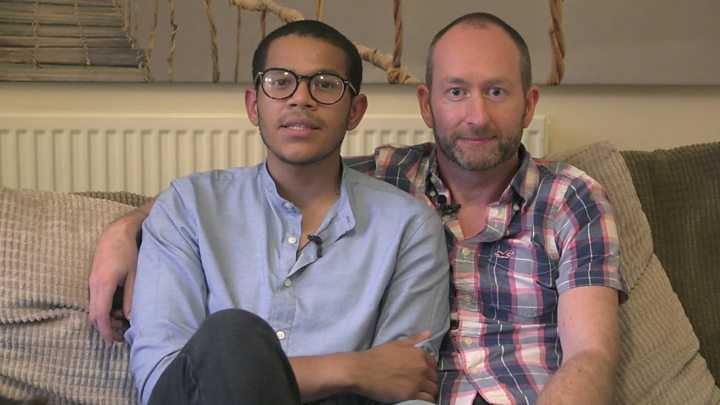 Some 4.3% of the population with a mixed ethnicity identified as LBG, compared to 2% of the white population, while 0.9% of Asians and 0.9% of black, African or Caribbean people did so.
More than half of the mixed ethnic LBG community (2.4%) identified themselves as bisexual compared with those who identified as gay or lesbian (1.9%).
Just over 70% of the LGB population were most likely to be single, never married or civil partnered, the figures suggested, a pattern thought to reflect the young age structure of the community, as well as the fairly recent introduction of same-sex marriage in 2014.
Of the 2% of the UK population identifying as LGB, 1.2% said they were gay or lesbian, while 0.8% identified as bisexual.
Women are more likely to identify as bisexual than men, the ONS said.
Some 0.5% of the population identified as "other", meaning they did not consider themselves to be lesbian, gay, bisexual or straight.
Meanwhile, 4.1% said they "did not know" or refused to comment.
The ONS estimates are based on data from the Annual Population Survey and measure sexual identity, which does not necessarily reflect sexual attraction or behaviour.