Want to see churches having a battle over the best architecture?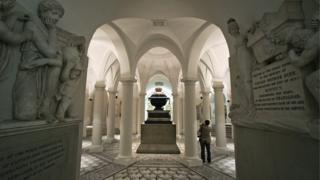 Who would have thought cathedral accounts on social media would be so entertaining?
Some social media users were certainly amused earlier this week when St Paul's Cathedral in London, boasted about how, on World Architecture Day, England's cathedrals "have got this well covered".
However, St Paul's was limited in the number of cathedrals it could tag in its tweet and other cathedral accounts responded on Twitter.
The result? A church face-off, in the nicest possible way of course.
Coventry Cathedral was the first to jump in with the claim it was able to offer the moon. (Albeit an installation project by Luke Jerram.)
Take your single space entity, because Exeter Cathedral has a number of them.
On realising there was some church shade being thrown, York Minister questioned why it had been excluded from the discussion.
A spokesperson for St Paul's Cathedral spokesperson told the BBC: "Yes, well unfortunately only 10 tags available and 42 cathedrals."
The conversation continued, as did the history lesson.
St Pauls cathedral replied: "We were, for a brief period, the tallest building ever built anywhere in the world. But then, you know, lightning."
Ely and Winchester Cathedrals weighed in too, with claim and counter-claim of towers and crypts, respectively.
Exeter Cathedral were quick with their come back.
As the one-upmanship flowed, Twitter users jumped in with their own comments.
@dfqinalibrary suggested the debate made for "the most pleasant thread of the day," while Josh Cook posted, "The Church is out of touch with modern culture... maybe not."
Charlotte Maxwell said the thread had inspired her to pay a visit to her cathedral.
As St Paul's explained to the BBC: "People come to us for happy occasions and sad occasions.
"We can help offer focus, calm and reflection. But in all of that, when we can, we like to have fun, and we hope some of that has come through in our social media posts."
By Rozina Sini, BBC's UGC and Social News Team