Disabled man's holiday prize 'not wheelchair friendly'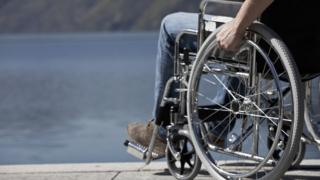 A disabled man who won a holiday from a UK disability magazine was not able to claim his prize because the resort in question was not wheelchair-friendly.
The man won a week-long, all-inclusive trip to France with Go Provence Supported Holidays, as advertised in PosAbility Magazine in December 2016.
The resort was aimed at those with learning difficulties and disabilities, the advert said.
The Advertising Standards Authority said it breached rules.
Following a complaint from the man, the ASA ruled the competition was "misleading" because it appeared "in the context of a disability lifestyle magazine".
Holiday company Go Provence said "disability had a wide definition" and readers would have needed to check to see if the accommodation was accessible.
---
You may also like:
Meet the man giving disabled kids a voice
Watch: The learning disability rave
---
It said it would have accommodated the winner's needs, but the man had decided not to accept the prize due to the additional costs this would incur.
The company also stated that the advert appeared alongside images of a group on a rafting trip and people jumping in a lavender field, which it argued "would lead readers to check whether the holiday would be suitable for wheelchair users".
PosAbility Magazine said it had not received any complaint about the competition, so it had not had the opportunity to discuss the matter with the complainant.
It said it understood the accommodation offered was "reasonably accessible" and so the man may have been able to take up the prize.
The magazine said the terms and conditions of the competition had stated the trip included kayaking, a mini cruise, swimming in nearby lakes and other activities.
It considered the changes required from the winner were "all related to personal preference and were not necessary to allow him to take up the prize".
'Likely to mislead'
But the ASA said the competition breached advertising standards because it appeared in a disability lifestyle magazine, surrounded by articles for physically disabled readers. This meant "accessibility was a significant condition" which would influence whether someone entered the competition, it said.
It said the advert was not "sufficiently clear" that wheelchair users may be unable to access the accommodation, and it must not appear in its current form again.
"We told Go Provence and PosAbility to ensure that their future promotions included relevant applicable significant conditions where their omission was likely to mislead, including whether or not a competition prize was accessible for readers who used a wheelchair."