The community hoping to buy their island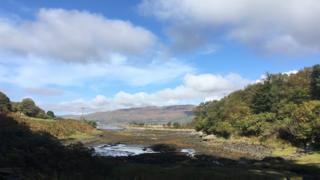 A beautiful, remote Scottish island is up for sale - but can the local community raise the money to buy it for themselves? Emma Jane Kirby writes from Ulva.
The problem with Ulva is that once you get on to the 4,500-acre (seven-sq-mile) Inner Hebridean island, you really don't ever want to get off it.
The unexpected autumn sunshine is showcasing the rusty browns and mossy greens of its landscape as a true bucolic idyll, and the dark sea, which follows the contours of its dramatic coastline, inspires childish thoughts of escape and adventure.
Donald Munro, the island's ferryman tugs the brim of his hat down a little over his eyes when I tell him this.
"And how many others feel the way you do?" he smiles. "How many others with £4.25m to spend? But this is our home... we have roots here."
Over the summer, Ulva was put up for sale.
Billed as the ultimate private getaway, the island has drawn attention from wealthy individuals from all over the world.
Rumours flip and fly across the narrow strait of water that separates it from the Isle of Mull - someone has heard a sheikh is keen, another fears Russian oligarchs, there are whispers of a professional footballer wanting his very own millionaire's playground.
"It's not really about who the buyer is," explains my tour guide for the day, John Addy, who lives on neighbouring Mull.
"It's about what that buyer wants to do with this island. The buyer could really want to regenerate this island; that would be great - or the buyer could just want it as a plaything. That's why we are putting in a bid for a community buyout - to protect the people from an absentee landlord."
John is a director of the North West Mull Community Woodland Company Ltd, a community body, affectionately known as The Woodies, which has applied to the Scottish government to exercise the community right to buy, created by the land reform legislation, which gives communities the opportunity to try to buy land themselves if it comes up for sale.
The Woodies, set up in 2006, have already successfully taken over acres of forests on Mull from the Forestry Commission Scotland.
In Ulva they have plans to repopulate the island by increasing economic activity and the housing stock, building new affordable homes and developing farming, fishing, and even crofting.
"Just look at the potential here," says John, as we stop in front of an information board that boasts of the island's red deer, sea eagles, otters and dolphins.
"Can't you just imagine the tourism potential if we won our bid and were allowed to develop and restore and repopulate this place?"
We walk past some rundown farm buildings and some fairytale but derelict cottages the community group would like to transform into hostels and B&Bs.
At the moment, wild camping is the only way to stay overnight as a visitor on the island.
"All that would change with the community buyout," says John. "We're even thinking of electric cars."
Two hundred years ago, more than 500 people lived here. Today, only six call Ulva their home. They rent their homes from the current owner, Jamie Howard, who is resident on the island and whose family have owned Ulva for over 70 years.
If The Woodies don't succeed in their community buyout, and the island is put back on the market for private sale, the residents fear that a new owner may not want tenants on their land.
"I have nowhere else to go," says Barry George as he harvests vegetables from his beautiful island garden.
Barry, who used to work on the local fish farms, has been an Ulva resident for 21 years.
"This is all I've got," he says. "A new owner could shut our island down - when you buy the island, you also buy the piers - so we could be cut off and told to go."
It is possible that the Scottish government could refuse to consider North West Mull Community Woodland Company's buyout bid as the application came in late, but for now The Woodies' action has caused the private sale to be put on hold.
If the bid is registered, the group would then have about eight months to come up with a viable economic plan, and the necessary funding, to meet whatever eventual sale price was set by the government.
Ulva is not the first Scottish island to attempt a community buyout - in 1997, the Isle of Eigg Heritage Trust successfully took ownership of the Isle of Eigg, meeting the sale price of £1.5m through a series of grants and a major fundraising campaign.
John Addy is confident the money needed to buy Ulva could also be raised through grants and crowdfunding.
The fifth Governor of New South Wales, Lachlan Macquarie, known as the Father of Australia, was an Ulva man, and there have already been encouraging noises from down under.
As she opens oysters for the hungry day-trippers at the thriving seafood cafe she runs with her sister-in-law, 30-year-old Rebecca Munro tells me that living on Ulva with her fisherman husband and bringing up their two young children here is "exceptionally special".
Since the announcement that the island was up for sale however, she admits to sleepless nights.
Rebecca is passionate about the community buyout and adamant that if Ulva was community-owned, it would be easy to repopulate the island because people would feel secure.
"This is about securing opportunities and our future," she says, wiping lemon juice from her hands on to her apron.
"Surely it's obvious that the community are the best people to run this place.
"Why would the people who live here and care about this place not be the best placed people to take over?"
As he ferries me back to Mull in his small boat, Rebecca's father-in-law Donald waves away my question about what would happen to his livelihood if the community buyout failed and a new owner decided to shut access to Ulva.
"Let's not talk about that," he says gruffly. He turns his head to look at Ulva's retreating and stunning coastline.
"It's a beautiful day, isn't it?" he says. "The girls will be busy in the cafe."