Steve Coogan awarded damages in phone-hacking case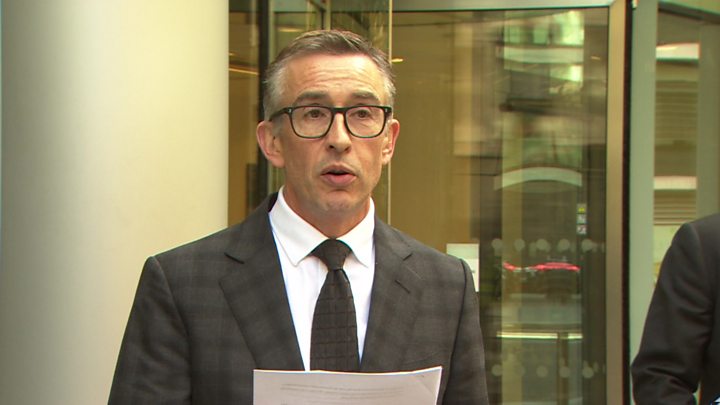 Comedian Steve Coogan is to receive a six-figure sum in damages from Mirror Group Newspapers (MGN) after it admitted to unlawful phone hacking.
Speaking after the High Court judgement, the actor and comedian said he felt "vindicated" by the agreement.
It follows an action by Coogan for misuse of his private information.
Publisher Trinity Mirror said it had "no comment" on the case but lawyers for MGN, which is part of Trinity Mirror, said the group had apologised.
MGN's lawyer admitted Coogan was the target of unlawful activities and that they were concealed until years later.
They said: "MGN apologises to Mr Coogan and accepts that he and other victims should not have been denied the truth for so long."
The exact figure of the settlement has not been revealed - but most of the money would be distributed to good causes, Coogan said.
More than 40 celebrities have already settled phone-hacking claims against MGN, including Lord Archer, footballer Kevin Keegan and actresses Patsy Kensit and Michelle Collins.
They were resolved by the payment of undisclosed sums and an apology from the newspaper group.
Phone hacking was used to listen to people's mobile voicemails, giving journalists access to private information to use for stories.
Coogan's lawyer, David Sherborne, told the court that the Mirror had written stories using unlawfully obtained personal information - including phone hacking, from third parties and surveillance by private investigators.
He claimed 62 news articles were "likely to have been produced by use of these means," adding that they caused "enormous distress" to Coogan, who wrongly suspected people he knew were leaking his private information.
Leveson attacks
Before bringing the case, Coogan gave evidence to the Leveson Inquiry into press ethics, which was launched in 2011 after revelations of phone-hacking first became public and concluded in 2012.
It followed the closure of the News of the World by its owner, Rupert Murdoch, following the revelation that the mobile phone of murdered schoolgirl Milly Dowler had been hacked.
Coogan's lawyer said his participation in the inquiry led to a number of attacks on him by national newspapers.
The actor then complained to MGN in July 2015 and it admitted to misusing his private information.
Coogan issued his claim in October 2016, and tried to find out the extent of the wrongdoing and identify the relevant newspaper articles.
Coogan believed that if Trinity Mirror had conducted a proper investigation at an early stage, then the unlawful activity could have been stopped - and prevented the distress and damage it caused its victims, their family and friends, his lawyer said.