Longer jail terms for viewing terror content online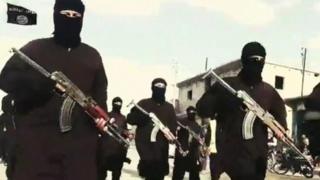 People who repeatedly view terrorist content online will face up to 15 years in prison, the home secretary has told the Conservative Party conference.
Amber Rudd set out her intention to change the law to increase the maximum penalty from 10 years.
The offence of possessing information likely to be useful to a terrorist will also apply to material viewed repeatedly or streamed online.
Currently it applies only to material that is downloaded and stored.
An example cited was of a male who streamed bomb-making videos on YouTube but could not be charged with a terror offence because he had not saved them.
The changes to Section 58 of the Terrorism Act 2000 will be designed to safeguard those who click on a link by mistake, or who could argue that they did so out of curiosity rather than with criminal intent.
'Despicable'
A defence of "reasonable excuse" would still be available to academics, journalists or others who may have a legitimate reason to view such material.
The new 15-year sentence would also apply to those who publish information about members of the armed forces, police or intelligence services for the purposes of preparing acts of terrorism.
---
Analysis: Moving legislation
By BBC home affairs correspondent Dominic Casciani
There are a number of offences that cover possession or sharing of terrorist material, and their use has changed over time.
The most important of these is Section 58 of the Terrorism Act 2000, which makes it a crime to possess material that is useful for terrorism.
Originally, that would have meant possessing items of practical use such as chemical or mechanical parts or tools that could be used in bomb making.
But, in practice, it has been used widely to prosecute supporters of banned organisations who have electronic copies of bomb-making manuals, ideological essays or sermons, and other written or video material that can be used to promote a terrorist cause.
If someone shares material, they can be prosecuted for the offence of dissemination of terrorist material.
If they use it to encourage or glorify a banned group or its actions, that's also a crime.
---
Streaming is becoming an increasingly common way for criminal and extremist material to be viewed online and there is a "gap" in the law as it stands, she said.
She also said the government was continuing to "urgently press" internet companies to do more to stop such material being available on their platforms in the first place.
It comes a day after Ms Rudd accused technology experts of "patronising" and "sneering" at politicians who tried to regulate their industry.
Speaking at a Spectator fringe meeting in Manchester, Ms Rudd said Silicon Valley had to do more to help the authorities access messages on end-to-end encrypted services such as WhatsApp.
And she said she did not need to understand how they worked to know they were "helping criminals".