News Daily: What drove the Las Vegas killer?
Hello. Here's your morning briefing:
Las Vegas shooting: Police look for answers
Why? What could possibly have motivated Stephen Paddock, a retired accountant, to open fire from a balcony above a Las Vegas music festival, killing at least 59 people and injuring more than 500?
Police found 23 guns in Paddock's hotel room, but have not discovered any connection to international terrorism, despite a claim of involvement from so-called Islamic State. President Donald Trump described the act as "pure evil" and some investigators say there is reason to believe the gunman, 64, had a history of psychological problems.
Meanwhile, searches have uncovered explosives at Paddock's home in a retirement community in the small town of Mesquite, north east of Las Vegas. There is a second house in northern Nevada which Swat teams are due to check for booby-traps before carrying out a search.
The authorities have yet to confirm the identities of any of the people killed, but Jordan McIldoon, 23, from British Columbia in Canada, has been named as a victim of the attack by CBC News. Here's what we know so far about the shooting.
Analysis: How Trump turned against gun control
By Anthony Zurcher, North America reporter
As Donald Trump began more seriously contemplating a bid for the Republican presidential nomination, his views on gun control changed. By the time he announced his entry into the race in 2015, he was well within the mainstream of the Republican Party, which views most forms of additional gun regulation as a violation of Second Amendment constitutional protections. It was Mr Trump's way of establishing his conservative cultural bona fides - proving that he wasn't the big-city liberal he had at times seemed.
Get news from the BBC in your inbox, each weekday morning
Johnson to give Tory conference speech
Foreign Secretary Boris Johnson and Brexit Secretary David Davis are to address the Conservative Party conference in Manchester later. Mr Johnson told the BBC's Newsnight that, contrary to reports of cabinet divisions over Brexit, senior ministers were "totally united behind every comma, every full stop, every syllable" of the speech the prime minister gave in Florence on the subject last month. Meanwhile, Theresa May is to promise to confront "uncomfortable truths" when a report she has commissioned on the treatment of people from ethnic minorities in the UK is published next week.
Musician Tom Petty dies
As the lead singer of Tom Petty and The Heartbreakers, he was known for hits including American Girl, Breakdown, Free Fallin', Learning to Fly and Refugee. Tom Petty, who also found success as a solo artist and performed with the Travelling Wilburys during the late 1980s, has died aged 66. "It's shocking, crushing news," Bob Dylan, a fellow Wilbury, told the Los Angeles Times. "I thought the world of Tom. He was great performer, full of the light, a friend, and I'll never forget him."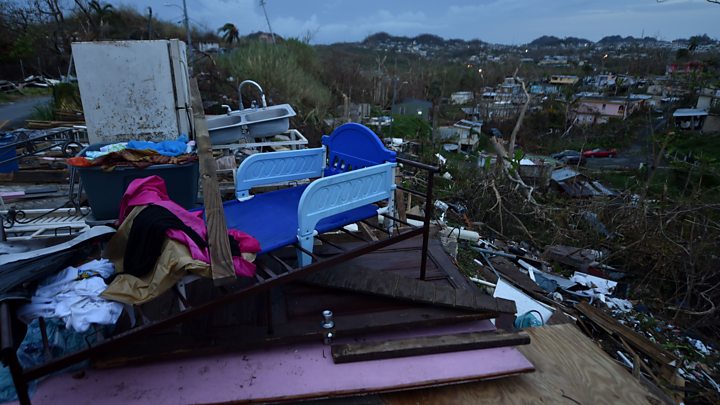 What the papers say
The newspapers react to the shooting in Las Vegas, the Times and the Daily Telegraph, in their headlines, echoing the words of President Donald Trump in calling it an "act of pure evil". "What turned Mr Normal into a mass killer?" asks the Daily Mail, while the Sun quotes the advice given to concert-goers caught up in the gunfire: "Run." The i describes it as "America's worst ever shooting". Meanwhile, the Financial Times looks at the government's efforts to get home the 110,000 UK tourists currently abroad following the collapse of Monarch Airlines, with the Daily Mirror calling the "rescue" the "biggest since Dunkirk".
Daily digest
Catalan referendum Regional strike after disputed independence vote
Hurricane Maria Donald Trump to visit Puerto Rico, amid criticism of relief effort
Uber licence Taxi firm to hold talks with Transport for London
Super-fast broadband Will 5G stop self-driving lorries colliding?
Secondary schools Eight things to do when you visit
If you watch one thing today
Is this Africa's oldest tortoise?
If you listen to one thing today
The guilty pleasure of eating alone
If you read one thing today
Today's lookahead
Today Members of the RMT union at Southern, Merseyrail, Arriva Rail North and Greater Anglia are walking out for 24 hours amid disputes over staffing and driver-only trains.
10:45 The winner of the Nobel Prize for Physics is announced.
14:45 The Welsh government outlines its spending plans for the year 2018/19.
On this day
1995 Former American football star and Hollywood actor OJ Simpson is found not guilty of the murders of his ex-wife Nicole and her friend Ronald Goldman.
From elsewhere
The Puerto Rican island cut off from the world (New York Times)
Life after a mercury-poisoning disaster (Independent)
Tiny robots will inspect and fix jet engines from the inside (Economist)