Allan Chappelow murder: Wang Yam conviction upheld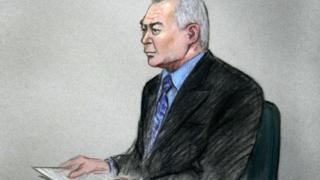 One of the oddest murder cases in recent years - one that led to two semi-secret trials and claims of a miscarriage of justice - has ended with the convicted killer remaining behind bars.
The Court of Appeal has upheld the 2009 conviction of 55-year-old Wang Yam for the murder of an elderly author, despite the evidence against him being, in the words of the court, "entirely circumstantial".
And so Yam will stay in HMP Lowdham Grange in Nottinghamshire, serving a life sentence for killing 86-year-old Allan Chappelow in 2006.
In June that year, police discovered Mr Chappelow's decomposing body under a four-foot high pile of his own manuscripts, at his large home in Hampstead, north-west London.
He had been battered with a blunt instrument.
Two different worlds
Mr Chappelow had written two biographies of George Bernard-Shaw in the 1960s. He had also been a press photographer but in more recent years he had kept himself to himself.
He was wealthy and struggling to maintain his increasingly crumbling home, which would otherwise be worth millions.
Wang Yam came from a different world. His grandfather was one of Mao's comrades during the rise of Chinese communism.
The grandson was an engineer and academic and ultimately a dissident who sought asylum after the failed Tiananmen Square uprising.
He had one failed marriage, a failed business and more than £1 million in debts.
And that, according to the prosecution, was where the worlds of the two men collided.
Yam was accused of killing Mr Chappelow in what appeared to be an identity theft and fraud gone wrong.
He had acquired details of Mr Chappelow's banking arrangements and tried to trick institutions into giving him access to his money multiple times.
He had also used Mr Chappelow's mobile and sim card.
Yam left the country the day after the police put a cordon up around the dead author's home.
But while there was circumstantial evidence to tie him to the crime, there was nothing to tie him to the murder scene.
No DNA, no fingerprints and no apparent connection to Mr Chappelow. It took two trials to get a murder conviction after the first jury failed to reach a verdict.
And then the case became stranger when the prosecution sought a then rare application to have part of the case heard behind closed doors on grounds of national security.
Appeals rejected
In the open part of the case, Yam's defence was that a mystery gang had given him the items from Mr Chappelow's home and he was playing along with them to gather evidence for the authorities.
The BBC's Newsnight has previously reported that Yam had a relationship with MI6 but we don't know (nor could we say if we did) whether this formed part of the secret sessions of the trial.
Yam was convicted in January 2009 and given life with a minimum term of 20 years.
He failed to get the conviction overturned and then failed to get the case re-opened at the European Court of Human Rights.
But last year, new doubts emerged.
New witnesses
The Criminal Cases Review Commission - the body that looks at potential miscarriages of justice - referred the conviction back to the Court of Appeal.
It concluded that the police had failed to reveal material to the Crown Prosecution Service that may have helped the defence.
A new witness, who had been living nearby, had suffered an extraordinarily frightening confrontation with a knife-wielding man on his doorstep. Was this an alternative suspect?
Two other men came forward with stories. One witness said he believed Mr Chappelow had been a frequent visitor to a gay cruising spot of Hampstead Heath and that he had been seen with other men.
Was this the key to solving the mystery of the DNA in the home that neither belonged to the author, his occasional handyman nor Wang Yam?
A third and final witness had a strange conversation with a man carrying a large piece of sawn timber through Mr Chappelow's front gate. It struck the witness as odd, and it could have been around the time of the murder.
What did this all amount to? As far as the Court of Appeal ruled on Friday, not a lot.
The knife-wielding man episode happened nine months after the killing - and the Court of Appeal concluded it wasn't sufficiently connected to the circumstances of Mr Chappelow's death to be something that would have influenced a jury.
The judges ruled the same in relation to the material providing from the other two witnesses. It didn't add up to anything conclusive.
Like so much else about this case, it was very, very circumstantial.