Supermarket chicken supplier 2 Sisters investigated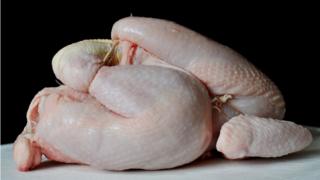 The Food Standards Agency is investigating after reports of safety breaches at a factory owned by one of the UK's largest chicken suppliers.
The Guardian and ITV News said workers at a 2 Sisters Food Group site in the West Midlands had changed slaughter dates to extend the shelf life of meat.
Marks & Spencer, Aldi, Lidl and The Co-op have stopped taking chickens from the site while investigations continue.
2 Sisters said it viewed the allegations "extremely seriously".
The FSA said its inspectors found "no evidence" of breaches at the West Bromwich factory on Thursday but they were continuing to review the evidence.
The company also supplies Tesco and Sainsbury's, which are investigating the allegations.
An undercover reporter claimed to have witnessed workers changing the "kill dates" on chickens and allegedly saw meat of different ages being mixed together and codes on crates of meat altered.
Repackaging claim
The Guardian and ITV News said in a statement that more than 20 workers had confirmed the unhygienic practices took place, while some said they would no longer eat chicken from supermarkets.
Some workers also claimed the chicken that supermarkets reject is sometimes repackaged at the factory and sent out again.
The FSA said it took any allegations of inaccurate labelling and breaches in hygiene regulations "very seriously".
It urged the Guardian and ITV News to share the full details with the FSA, such as the footage taken and witness interview transcripts, so that it could investigate thoroughly and promptly.
FSA chairman Heather Hancock said: "Should we find any evidence of any risk to public health, any products on the market which we believe to be a cause of concern will be urgently removed from sale."
She reminded consumers to follow FSA guidelines for chicken:
Cover and chill raw chicken
Never wash raw chicken
Only use clean hands, utensils and chopping boards when handling raw chicken
Cook chicken thoroughly until there is no pink meat and the juices run clear
Tesco said it carried out its own regular audits of all its suppliers, adding that it took the allegations "extremely seriously" and would be carrying out a "rigorous investigation".
Aldi, Lidl, Sainsbury's and Marks & Spencer all issued statements announcing the launch of independent investigations.
'No stone unturned'
The 2 Sisters company was founded in 1993 by Ranjit Singh Boparan and now employs 23,000 staff. Although it has diversified, the bulk of the group's income still comes from processing poultry.
The company said it had been made aware of the allegations on Thursday but had "not been given the time or the detailed evidence to conduct any thorough investigations to establish the facts, which makes a fulsome response very difficult".
It said hygiene and safety remained at the "core" of its business, which was subject to frequent unannounced audits from the FSA and Red Tractor - the food industry's assurance scheme - among others.
It said the West Midlands site in question had received nine audits - five unannounced - during July and August this year alone.
It added in a statement: "If, on presentation of further evidence, it comes to light any verifiable transgressions have been made at any of our sites, we will leave no stone unturned in investigating and remedying the situation immediately."