Five released under investigation in National Action probe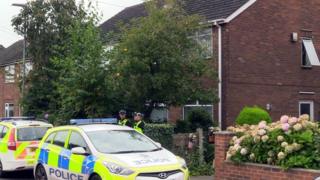 Five men arrested as part of a national investigation into neo-Nazi group National Action have been released pending further inquiries.
The men, aged between 23 and 30, are from Swansea, Leeds, Wiltshire and Sowerby Bridge.
National Action became the first far-right organisation to be banned in the UK last year.
Six other men arrested by counter-terrorism officers in the north west remain in custody.
All of the men who were arrested are suspected of being a member of National Action.
The men who have been released under investigation are:
A 28-year-old man from Swansea
A 23-year-old man from Sowerby Bridge
A 23-year-old man from Swansea
A 26-year-old man from Leeds
A 30-year-old man from Wiltshire
Home Secretary Amber Rudd has previously said the group was "a racist, anti-Semitic and homophobic organisation".
Being a member of - or inviting support for - a proscribed organisation is a criminal offence carrying a sentence of up to 10 years in prison.
Earlier the Home Office announced two more neo-Nazi groups, Scottish Dawn and NS131, are to be banned under UK terror law. The groups are aliases of National Action.
Ms Rudd said: "We are halting the spread of a poisonous ideology and stopping its membership from growing - protecting those who could be at risk of radicalisation."
Earlier this month, three men - including two British soldiers - were charged under anti-terror laws with being members of National Action.