Charity estimates extent of child migrant exploitation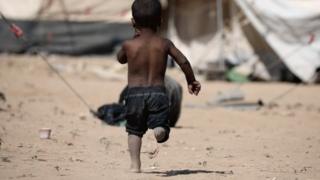 A migrant child trying to travel to Europe is exploited by traffickers or criminal gangs every 30 minutes, a children's charity has estimated.
Unicef UK wants youngsters orphaned in warzones to be reunited immediately with any family members in the UK.
It said this would stop the vulnerable from falling into the hands of people smugglers and making perilous journeys to Europe to apply for UK entry.
The Home Office said its approach was to resettle whole families.
Currently unaccompanied children may be eligible to come to the UK under the vulnerable children's resettlement scheme, it added.
The charity said it was also concerned that the European option could be closed to young refugees once the UK leaves the EU.
Unicef UK deputy executive director Lily Caprani said: "We have seen what the UK's leadership and compassion can do for the world's most vulnerable children.
"Last year 700 unaccompanied children used the Dublin process to be reunited with family in the UK - the majority of whom joined close family but not parents.
"It is this route and lifeline that refugee children could lose in the face of Brexit unless the government acts now. Not doing so will let the traffickers and smugglers win.
"This simple change to our rules does not need protracted negotiation with the European Union. Doing it could give children their childhoods back."
In response, the Home Office said it was too early to speculate on arrangements post-Brexit.
By BBC home affairs correspondent June Kelly
Omar is a 27-year-old-Syrian who has been given refuge in the UK. He is desperate to get his 17-year-old brother out of the war ravaged city of Aleppo and wants to use a legal route.
But he says that, as the rules stand, his brother's only real hope is to cross the Syrian border into Iraq, which he describes as fleeing from one hell to another.
His brother could then head to Europe, using people smugglers. From a European country he would be able to apply to come to the UK, using the Dublin Regulation.
But Omar says there is still no guarantee that his brother would be allowed into Britain. He denounces the current system as inhumane. And he is terrified for his brother's future if he stays in Syria.
"He faces the risk of being recruited and drafted by different factions. There are government forces, militias linked to the government forces and Islamic State. Everyone is trying to recruit these young people. I want to get him out to save him."
Actor Michael Sheen, who is a Unicef UK ambassador, said: "Our government can fix the rules so that it is no longer necessary for those children with close family in the UK to journey into Europe before being allowed to reach the protection and love that is waiting for them.
"By recognising what our close family really is and reflecting that in the Home Office's rules, a child could be brought to safety faster and without the need for these deadly journeys."
The Dublin III Regulation provides for unaccompanied children seeking asylum in one EU member state to be transferred to another where they have family members.
Earlier this year, an all-party group of MPs and peers warned that refugees faced homelessness and destitution because of a "two-tier" system.
It said people brought to the UK via resettlement schemes received more support than those given refugee status after arriving as asylum seekers.
The group said the next government should create a minister for refugees to help level the playing field.
A Home Office spokesman said: "The UK has a long and proud tradition of providing protection to those who need it and in the last year alone we have provided refuge or other forms of leave to more than 9,000 children.
"Approximately half of the 8,500 Syrians resettled in the UK so far are children - part of our commitment to resettling 20,000 people affected by the Syrian conflict by 2020.
"We have also committed to resettling up to 3,000 children and their families from the Middle East and North Africa.
"Both the UK and our European allies have a clear interest in ensuring that our strong cooperation on asylum continues and strengthens after we leave the EU."