News Daily: May on debt and Playboy's Hugh Hefner dies
Hello. Here's your morning briefing:
May: We must deal with debts
Theresa May is to promise the UK will "continue to deal with our debts", in a speech later. The prime minister's views present a marked contrast to those of Labour leader Jeremy Corbyn who, in his party conference speech on Wednesday, pledged to "repair the damage done by austerity".
Mrs May will argue that her rival's approach would end up damaging public services, causing "unfunded" government borrowing and threatening jobs. But Mr Corbyn said his policies were what "most people in our country actually want". Mrs May's speech takes place at the Bank of England, which is marking 20 years of independence, since when it - rather than the chancellor - has set interest rates. The Bank also happens to be the first place Mrs May worked after graduating from Oxford in 1977.
Playboy founder Hugh Hefner dies
"I am a kid in a candy store," Hugh Hefner once said. "I dreamed impossible dreams, and the dreams turned out beyond anything I could possibly imagine. I'm the luckiest cat on the planet." Mr Hefner, who founded Playboy magazine in 1953, bringing female nudity to the mass magazine market, has died aged 91. The pyjama-wearing multimillionaire became known for having hundreds of sexual partners and throwing parties at the Playboy mansion, his business empire also stretching to casinos and nightclubs. "He was attacked by feminists - accused of reducing women to sexual toys," says BBC Los Angeles correspondent James Cook, "but he styled himself as the godfather of the sexual revolution." Here is Mr Hefner's obituary.
Get news from the BBC in your inbox, each weekday morning
Ryanair threatened with legal action
Ryanair, which earlier this month announced it was having to cancel up to 50 flights a day through to the end of October because of staffing problems, has been threatened with legal action by the Civil Aviation Authority for "persistently misleading passengers" over their rights. The CAA said the airline was wrong to claim it did not have to re-route customers via rival operators. The development comes after Ryanair announced it was cancelling another 18,000 flights between November and March. The airline's boss Michael O'Leary said it was "in correspondence with the CAA" and had "requested an early meeting to address their concerns".
The 21st floor
By Katie Razzall, BBC Newsnight
The fire at Grenfell Tower in west London on 14 June killed scores of people and left the block a charred ruin. It stands as a reminder of one of the most tragic days in modern British history. Each floor of the tower tells a story - about London and its inhabitants, about immigration and gentrification, about lives lived and tragically lost. It was a microcosm of life in the capital.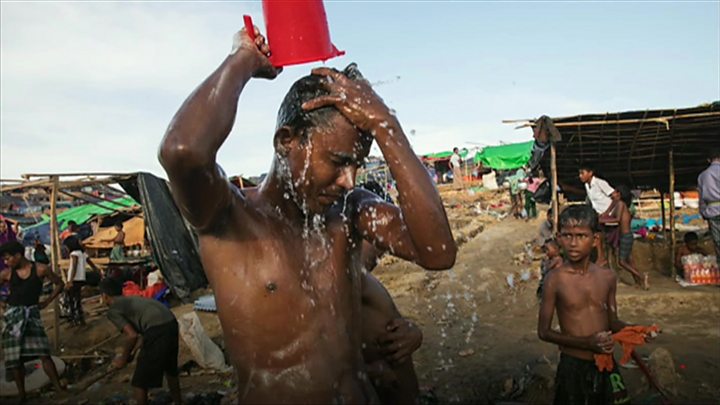 What the papers say
Today's front pages are not pleasant reading for Ryanair or its customers. The Times leads on the story that the company has been threatened with legal action by the CAA for allegedly misleading passengers affected by cancellations over their rights. And the news that more flights will be off from November to March prompts Metro to use the headline "Christmas cancelled by Ryanair", while the Daily Mirror states: "Now Ryanair ruins hols for 400,000 more passengers." The Daily Telegraph and the i both tell of a possible "trade war" between the UK and US after US regulators put a 220% import tariff on some Bombardier planes. Meanwhile, the Sun shows stills of footage of what it claims is England cricketer Ben Stokes involved in a street brawl in Bristol.
Daily digest
Head teacher turns rebel Letter criticising school funding reaches 2.5 million homes
Facebook row Mark Zuckerberg denies anti-Trump bias claims
'Fake news' kingpin Paul Horner, publisher of fraudulent articles, found dead after suspected overdose
South Sandwich Islands UK-owned Antarctic territory "needs more protection"
If you watch one thing today
If you listen to one thing today
David Baddiel tries to understand hacking
If you read one thing today
The neighbourhood where Meghan Markle grew up
Today's lookahead
Today It's the last day of cricket's County Championship season.
18:30 The European Parliament's Brexit negotiator, Guy Verhofstadt, gives a speech at the London School of Economics about the future of the EU.
On this day
1985 Riots break out in Brixton, south London, after Cherry Groce is shot and seriously injured by police in a house search.
From elsewhere
A small, but not great, step forward for Saudi women (New Yorker)
The world's most improbable green city (National Geographic)
Shoreditch to the shires: Why millennials are on the move (Creative Review)
Why we need to stop obsessing over weight loss (Independent)