Brexit: Davis sees 'no excuse for standing in way of progress'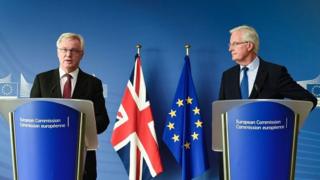 The EU's Brexit negotiator Michel Barnier has called for a "moment of clarity" from the UK as talks resumed.
At the start of a fourth round of talks, Mr Barnier said the process had been going six months and progress on key separation issues was essential.
For the UK, David Davis said Theresa May had shown "leadership and flexibility" in her Florence speech and given reassurances on financial issues.
There were "no excuses for standing in the way of progress", he insisted.
The new round of negotiations is the first chance for the EU team to respond to Mrs May's speech in Italy last week, in which she said the UK wanted a two-year transition period and would honour its financial obligations.
The prime minister aimed to restore momentum to a process that was widely reported to be stalling.
Speaking in Brussels, Mr Barnier said he was "keen and eager" for the UK to translate the "constructive" sentiments in Mrs May's speech into firm negotiating positions on issues such as citizens' rights, the Irish border and financial issues, including the UK's so-called divorce bill.
Remarking that it had been six months since the UK triggered Article 50, he said progress on these three fronts was essential to allow talks to move on to the future of the bilateral trade relationship, as the UK would like.
"We are six months into the process," he said. "We are getting closer to the UK's withdrawal. I think this moment should be a moment of clarity."
Mr Davis said he hoped for progress on all fronts but made clear any agreement on financial matters could only be reached in the context of the UK's future partnership with the EU.
"The UK is absolutely committed to work through the detail. We are laying out concrete proposals and there are no excuses for standing in the way of progress."
Budget black hole
In her speech on Friday, Mrs May offered to continue paying into the EU for a two-year transition after the UK leaves in 2019 to ensure the bloc is not left with a budget black hole.
The prime minister sought to reassure member states that they would not lose out financially during the current EU budget period, which runs to 2020.
She also confirmed there would be no restrictions on EU citizens coming to the UK during the transition period, but after Brexit they would be registered as they arrived.
Mr Davis has insisted that Mrs May's speech was not influenced by a 4,000-word article by Foreign Secretary Boris Johnson, in the run-up to the event, setting out his own vision for Brexit.
Meanwhile, the UK and Scottish governments have held a fresh round of talks on Brexit in London.
Scotland's Deputy First Minister John Swinney and Brexit minister Mike Russell met First Secretary of State Damian Green to discuss concerns about the EU Withdrawal Bill.
And Mrs May has held talks in Downing Street with Irish premier Leo Varadkar, in her first meeting with an EU leader since the Florence speech.
Mr Varadkar said his counterpart's proposal for a post-Brexit transitional period was a step in the right direction but it was too early to say whether the UK had made sufficient progress in general.