News Daily: US travel ban and Merkel wins
Hello. Here's your morning briefing:
US extends travel ban to North Korea
US President Donald Trump has issued a proclamation extending his travel ban to include people from North Korea and Chad and some officials from Venezuela. They join five other countries - Iran, Libya, Yemen, Syria and Somalia - on the list, but one - Sudan - has been removed.
The latest ban is set to come into effect on 18 October and doesn't affect people who already have a valid visa. Mr Trump said the US would "not admit those into our country we cannot safely vet". The US Supreme Court is due to consider the original ban next month, following several legal challenges.
Merkel wins fourth term but nationalists surge
Angela Merkel's conservative CDU/CSU alliance has recorded its worst election result since 1949, but still remains the biggest group in Germany's parliament. Mrs Merkel, who becomes chancellor for a fourth term, faces a grim struggle to put together a governing coalition, which could take months. To add to the difficulty, her main rival, the left-of-centre SPD, also had its worst result since the 1940s and has ruled out serving with the CDU/CSU. But perhaps the biggest story of Germany's election is the right-wing, anti-Islam, AfD taking its first seats. It will be the third-biggest party in parliament.
Analysis: Merkel's hollow victory
By Jenny Hill, Berlin correspondent
It was a chaotic day for German politics. And for Berlin too, which hosted the annual marathon as voters went to the polls. There is division, discontent, in the heart of this country. Among the crowds watching the runners cross the finish line, one man told me he was horrified by the rise of the right-wing nationalists. "They are like the Nazis under Hitler," he said. "I was born in 1939. I'm a war child. I grew up in the ruins and now we get this again."
Get news from the BBC in your inbox, each weekday morning
Limit credit card interest, says Labour
Labour's first annual conference since the general election, in which it did better than many pundits predicted, is taking place in Brighton. The main announcement today is shadow chancellor John McDonnell's plan for legislation to limit the amount of interest that can be charged on credit card debts. He will say similar measures should be put in place to those imposed for payday loans in 2015, adding: "It means that no-one will ever pay more in interest than their original loan." The Conservatives said action was already being taken to outlaw "rip-off credit card charges". Meanwhile, some pro-EU Labour MPs have expressed anger after no Brexit motions were chosen to be voted on at the conference.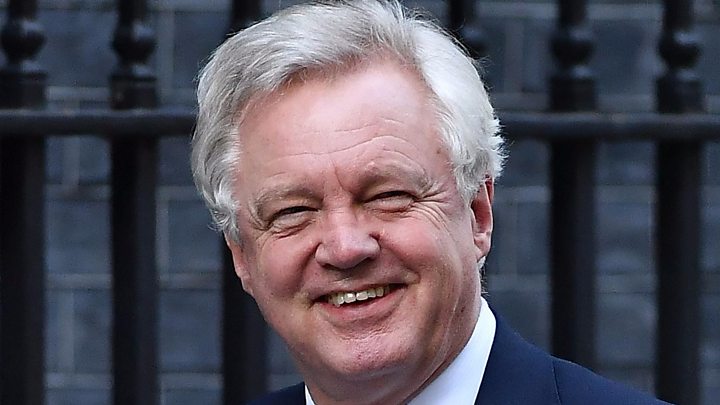 What the papers say
Conservative disagreements over Brexit continue to garner much coverage, with the Daily Telegraph reporting that allies of Chancellor Philip Hammond have let it be known that they regard Foreign Secretary Boris Johnson's approach to the issue as "simple-minded". Metro says Prime Minister Theresa May is trying to "keep a lid" on the situation, but adds that up to 50 of her own MPs want her to go. The i adds that Brexit Secretary David Davis has a "plan" to take over in 10 Downing Street if she chooses to do so. Meanwhile, the Guardian shows rather a pained smile on the face of Angela Merkel, as Germany's chancellor comes to terms with a rise of the AfD and the difficult job of forming a coalition after her party's worst result since the 1940s. And the Daily Mail claims GP surgery receptionists are screening patients in a scheme designed to cut the number of appointments.
Daily digest
Remembrance row Fifa set to lift ban on poppy
'Hate crime' Surgeon stabbed on way to mosque
Crime hotspot Birmingham tops UK "cash-for-crash" league
Cliff-edge drama French tourist praised for preventing bus plunge
If you watch one thing today
The surprising history of astronauts in Iceland
If you listen to one thing today
The life of the UN's Antonio Guterres
If you read one thing today
How plastic became a victim of its own success
Today's lookahead
Today Iraq's autonomous Kurdish region holds a referendum on independence, with polls closing at 15:00.
11:30 Ireland, France and South Africa make their bid presentations for hosting the 2023 Rugby World Cup.
12:00 German budget supermarket Aldi announces its full-year results for the UK.
On this day
1983 Thirty-eight inmates escape from the Maze high-security prison in Northern Ireland.
From elsewhere
A history of my Mexico City home, in earthquakes (New Yorker)
My memories of Bruce Chatwin and In Patagonia (Guardian)
Vinyl is back in the groove - and how (Independent)