UK's terror fight 'puts unsustainable strain on police'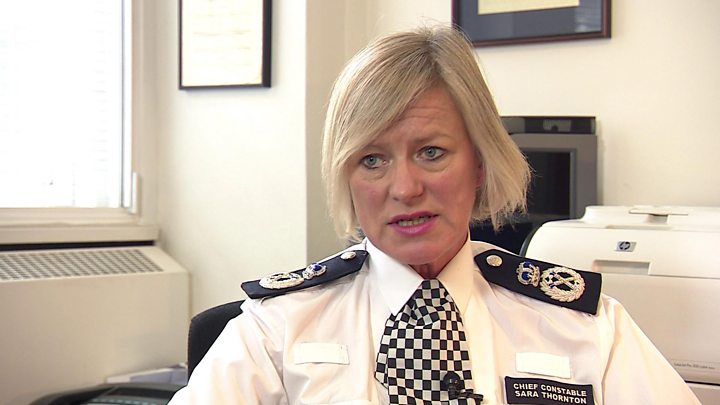 The UK's counter-terrorism effort is putting an unsustainable strain on policing, the head of the National Police Chiefs' Council has said.
Chief Constable Sara Thornton said resources were being diverted from mainstream policing in England and Wales, leading to backlogs in control rooms and slower response times.
She said the strain was "causing real problems" and "frankly unsustainable".
The Home Office said it was working with police on the demands they faced.
So far in 2017 there have been five terror attacks in the UK, killing 36 people.
Four people remain in police custody, including a 17-year-old boy, following last week's explosion at Parsons Green Tube station in which 30 people were injured.
Earlier this year, Metropolitan Police Assistant Commissioner Mark Rowley wrote to the home secretary warning that the counter-terrorism policing network was not able to operate at "full strength".
He added that other areas of policing would be at "significant" risk if resources had to be diverted.
'Undermining trust'
Ms Thornton told BBC Radio 4's Today programme: "When we respond to the sorts of attacks we saw only a week ago, it's not just our counter-terrorist police units, but the whole system of policing that responds.
"The current level of terrorism, added to the strain and stress the force is already under, is causing real problems and is frankly unsustainable."
She said having officer numbers at 1985 levels and crime figures up 10% in the last year created additional pressures.
"After Manchester attack, of the officers and staff that responded, three-quarters were paid for out of mainstream policing."
The current funding for forces across England and Wales is "no longer enough" and the counter-terrorism policing budget will be cut by 7% in the next three years, Ms Thornton added.
She warned a response would "never be as good as preventing" attacks in the first place.
Metropolitan Police Commissioner Cressida Dick said her force would "have to make hard choices in the future".
Ms Dick, who is in talks with the government over securing more funding for the Met, told LBC: "This is a shifting threat, not a spike, that puts a strain not just on counter-terror police but neighbourhood officers.
"This is not sustainable for my police service," she added.
In an earlier blog post, Ms Thornton wrote: "Fewer officers and Police Community Support Officers will cut off the intelligence that is so crucial to preventing attacks.
"Withdrawal from communities risks undermining their trust in us, at a time when we need people to have the confidence to share information with us."
Protecting the public from terrorism may require "difficult and unpalatable" decisions, she added.
Extra funding
BBC home affairs correspondent Danny Shaw said this was Sara Thornton's "most significant intervention" in the debate about police funding since the terror attacks in London and Manchester.
The Home Office says the government will do what is needed to keep the public safe.
A spokesman said: "We are increasing funding for counter-terrorism by £3.4bn and the home secretary announced £24m in extra support for CT [counter-terrorism] policing in addition to the £707m already committed for this year.
"We have also protected overall police funding in real terms since 2015 and we are sensitive to the pressures on police forces across the country.
"We are engaging with them on the demands they are currently facing."