Government to pay £1.1m for Sir Edward Heath inquiry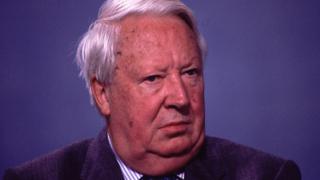 The Home Office will pay £1.1m towards the costs of the controversial police investigation into allegations of sexual abuse against Sir Edward Heath.
The Wiltshire Police inquiry into the former prime minister, who died 12 years ago, began in 2015.
Two people were arrested and released as part of Operation Conifer. There have been no charges.
Police will publish a "closure report" about the investigation, which has cost around £1.3m in total, on 5 October.
Angus Macpherson, the Wiltshire Police and Crime Commissioner, said the government "has waived the usual rule that the force should meet the equivalent of 1% of its budget before the Home Office will assist".
Wiltshire Police will pay around £190,000 towards the cost, with the government paying around 85%.
The major inquiry - codenamed Operation Conifer - began after Sir Edward, who led the Conservative government from 1970 to 1974, was accused of historical child sex abuse.
Sir Edward's friends have strongly criticised the investigation, and a psychologist who advised detectives claimed it was based on the allegations of a handful of fantasists.
The Crown Prosecution Service has not given a public assessment of any of the evidence gathered.
Wiltshire Chief Constable Mike Veale said: "Operation Conifer has attracted an unprecedented amount of public interest and I have stressed from the outset that we will be fully transparent when we are in a position to publish the summary closure report."
He added: "This has been a unique investigation with unprecedented challenges but one we, as the police service, had an obligation to progress in a proportionate and fully accountable manner."