RAF heads off Russian jets near Scotland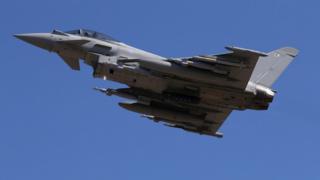 Two RAF fighter jets were sent to head off Russian military planes on course for Scotland.
The Typhoons took off from Lossiemouth in Moray on Wednesday, after two Russian aircraft approached the UK's "area of interest".
A Voyager refuelling craft from RAF Brize Norton in Oxfordshire was also sent to support the two jets.
Once the jets left their base in Scotland, the Russian planes turned away.
It is not uncommon for the RAF to use their jets this way.
In May, two Typhoons were scrambled when two Russian aircraft entered the UK's airspace.
In October last year, jets from four European countries, including the UK, intercepted Russian planes between Norway and Spain.
And in September last year, the RAF intercepted two Russian bombers when they passed west of Shetland.
In January, Type 23 frigate HMS St Albans was deployed to "man mark" the Russian aircraft carrier Admiral Kuznetsov and its battlegroup as the vessels sailed close to UK territorial waters.
The Russian ships were returning from supporting the offensive in Syria.